Style is normally pushed aside when looking for efficiency and durability when talking about high-speed hurricane-strength roll-up doors, as look and toughness do not coexist all the time as well as we would like to. Although things tend to be functional, rugged and utilitarian and at the end, the job is done anyway. Luckily, this is not the case anymore.



The Rytec Spiral® HZ® (Hurricane Zone), is a high-performance rolling door that is simple but aesthetically pleasing. It is the first high-speed certified garage door to meet with Miami-Dade County and the Florida Building Codes for hurricane-force wind protection. Its heavy-duty construction allows door to easily withstand pressure as well as large and small missile impact.
When changes occur during strong storms, Rytec Spiral® HZ® stands up against positive and negative pressure changes, and it is certified to withstand winds up to 175 miles per hour and even high-speed missile impact from wind-blown debris.

As in the coastal regions of the Eastern U.S. are prone to hurricanes, tornadoes, and microbursts and also during violent thunderstorms wind gusts up to 200 mph., Rytec developed this door in response to the needs of its customers in that region.

The Spiral HZ's help to protect buildings against damages such as wind and rain, and also help to diminish theft, which is a problem in South Florida as it open and close speeds -up to 60 inches per second- and it can also be opened with its mechanical brake release, in the case that power failure occurred.
The Spiral HZ will last for many years looking with its crisp lines that gives it a stylish, high-tech look, not an industrial or utilitarian appearance and as it is made of anodized aluminum that will not corrode it will look stylish even in the worst weather conditions for many years.


Rugged Construction
Galvanized steel side frames and head for strength and security; extension springs in the side columns; rigid, double-walled insulated 6 inch aluminum slats, an integral weather seal between the aluminum slats and a heavy-duty reinforcement hinge system for the door panel assembly are some issues that rugged construction includes.The Spiral HZ can support extreme weather conditions as it was designed to withstand them.


A Better Solution to Hurricane Protection
Combining a conventional sectional or roll-up door with a hurricane shutter was until recently the door industry's solution. In order to protect the building against wind projectile damage, the owner can lower the shutter thus giving it a second layer of protection against them.

However, the most potential set of problems could be:
- The hurricane shutter must be tested to check if it is operating correctly as they are rarely used (only when a hurricane or violent storm is near).
- A second door, adjacent to the main door, may need to be installed and maintained.
- A single roll-up door will be more esthetically pleasing.
- The combined service and maintenance cost for the two doors will be higher over their lifetime of service.
The only certified door, The Rytec Spiral® HZ®, was tested in a state-of-the-art laboratory in south Florida, and it is the only door certified by Miami-Dade County (Florida NOA no. 17-1106.02,11/8/2022. Florida Building Code: FL#FL 16612).
Test: Rytec Spiral® HZ® in Under High-Pressure
What Types of Buildings Can Benefit From a Hurricane-Strength Door?
A Rytec Spiral® HZ®'s door is used to open and close more than 60 times per day. As a consequence, this high-speed/high-performance rolling door can benefit high-end apartments, government buildings, condominiums, and auto dealerships.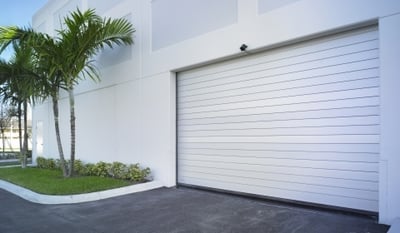 If you want both, protect your building against extreme weather conditions and a door that combines aesthetics with unmatched hurricane zone performance, then the Spiral HZ High-Rigid rolling door will be your best option.
Contact us today at 908-722-5785 or email at comm@overheaddoorco.com. It will be a pleasure to assist you!