PVC Strip Doors




Commercial & Industrial Garage Doors
PVC strip doors, also known as strip curtains, are smart economic way to reduce energy costs and separate workplace environments. These can be used in both indoors and outdoors in a wide variety of applications from industrial, commercial, food production, welding to warehousing.
At Overhead Door Co. of Central Jersey, we work with the largest manufacturer of PVC strip doors in the United States, offering the widest variety of strips to meet your exact needs.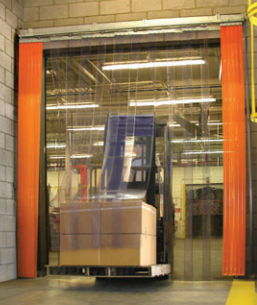 Industrial Strip Doors
Types of PVC Strip Doors:

✓

Industrial Strip Doors


✓

Restaurant Strip Doors


✓

Refrigeration Strip Doors


✓

Quick-Pick Strip Doors


✓

Accordion Strip Doors


✓

Motorized Accordion Strip Doors

✓ Sliding Track Strip Doors

Overhead

✓

Door Bracket Strip Doors


✓

Truck and Trailer Strip Doors


✓

Armor-Bond Strip Doors


✓

Quick-Ship Strip Doors


✓

Personnel Strip Doors
We can customize any strip door to make it fit your space and application.

We offer PVC compounds that meet the needs of any environment or condition, including NFPA fire-rated, low temperature, anti-static, and more.
PVC Strip Doors are designed based on several factors, including door width & height, interior or exterior use, kind of traffic and environmental conditions.


Main Benefits of Strip Doors:
- Save Energy - Our strip doors are designed to control temperatures and minimize energy costs, whether you want to keep warm or cool air in.
- Separate Environments - Strip doors help you separate specific sections of your workspace. Keep out dust, insects, weather, bugs, fumes, noise, and other elements with a vinyl strip door.
- Streamline Workflow - PVC strip doors allow people and machinery to easily pass through the strips without physically opening a door, thus optimizing productivity.
Additional Benefits of Installing a PVC Strip Door
✓ Reduce hot or cold air loss
✓ Restricts movement of air pollutants
✓ Transparency promotes safety
✓ Provides bird and flying insect control
✓ Isolates noisy machinery
✓ Increases employee comfort
✓ Easy to install
✓ Strong and durable
✓ Minimizes maintenance
Preventive Maintenance Plans for Your Commercial and Industrial Doors:
Commercial and industrial doors should be serviced at least once a year if no other issues arise. It is important to have an adequate maintenance plan as it will prolong the life of your doors while it helps you avoid costly emergency repairs and replacements.
Commercial and Industrial Door Catalog:




Rolling Service Doors


Thermacore Doors



High-Speed Metal Doors
High-Performance Roll-Up Doors


Sectional Steel Doors

&

Insulated Sectional Steel Doors


High-Speed Fabric Doors


Aluminum Glass Doors


High-Speed

Rubber

Doors


Fire Rated Doors and
Fire Rated Counter Doors
Security Grilles


Counter Doors



Rolling Shutters


Rolling Sheet Doors



Wind Load Doors



PVC Strip Doors



Fire & Smoke Rated Curtain Systems