Fire Rated Curtains & Smoke Rated Curtains
Design, Installation & Testing in NJ
Our team is ready to help you design and buy new fire rated doors, fire rated curtains or smoke rated curtains, whether it be fabric or steel. Our fabric products are used for openings in walls, ceilings, and facades in corner situations. We have fire protection which goes around the corner to enclose areas. We even have curtains to protect openings in facades with a minor distance between buildings.
In case of fire, fire curtains and smoke curtains will close wall and ceiling openings. Their construction (roll-down or folding technique) and the use of different fabrics provide for a wide range of applications as well as different protection goals, classifications and time classes.
The Main Difference Between Smoke Curtains and Fire Curtains
Smoke curtains restrict the movement of combustion gases within a building in case of fire.
Fire curtains restrict both, the fire and the movement of combustion gases within a building in case of fire.
Our smoke and fire curtains are commonly used in airports, assurance buildings, automotive industry, banks, barracks, canteens, car dealerships, car parks, cinemas, cold storage rooms, commercial properties, food industry, furniture and hardware stores, historic monuments, homes for elderly, hospitals, hotels, industrial plants, kindergartens, museums, office buildings, public buildings, residential buildings, schools, shopping centers, timber industry, town halls, train stations, training centeres, underground train stations, universities, warehouses.
If you'd like to get detailed information about our fire curtains, fire rated doors, smoke curtains and smoke doors, please contact us at 908-722-5785 or email comm@overheaddoorco.com. We've been serving customers in New Jersey for over 45 years.

→ Suggested lectures: Fire Rated Annual Inspections & Fire Rated Drop Tests in NJ ←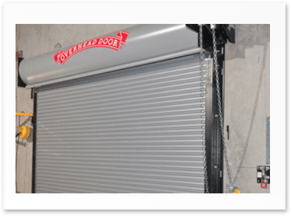 Fire Rated Doors & Smoke Rated Doors in NJ

Fire Door Drop Test & Fire Door Annual Inspection in NJ