If you're looking for a unique garage door design for your new garage door, then look no further. Each one has a clever and crafty design feature that does not look anything like the typical cookie-cutter exterior of a conventionally designed unappealing garage door. And you don't have to scrimp on structural strength or quality to get this great garage door design features either.
According to Jim Norman of Overhead Door Company of Central Jersey "Garage doors are available in both wood and steel in a virtually unlimited array of designs and a custom door shop can build doors to match any architectural style you desire." That means no matter what you want your garage door to look like, it's going to be as strong and well-built as any other door on the market.
Glass Roll-Up Doors:




Garage roll-up doors don't really have to be placed in the garage. In the case of a glass garage door, it can be used as a window for a great room or master bedroom. The entire wall opens when you desire some fresh air but when it's closed, it's a beautiful wall of glass. Glass doors are made from super strong safety glass so you don't have to be worried about them breaking easily either.


Carriage House Garage Doors:
If you're looking to go back in time with your design, then a carriage house garage door is the right choice for you. Most of these garage doors look like an actual swinging gate but rise up like a single fixed garage door panel instead. While you can get a true carriage door for your garage that swings open from vertical hanging hinges, it's not a good idea if you plan on parking a car in there. They tend to open and close when even the slightest breeze is blowing and could easily damage your car.
Custom Made Wood Garage Doors:


An all-wood garage door used to be the norm, but today, it's reserved for higher-end designs and architecture. All-wood garage doors are typically made from fine woods and are seldom painted. They are finished with a fine stain and clear coat of polyurethane for protection to showcase their rich grains and patterns. Many all wood doors have architectural appealing windows and mosaics built-in for added detail and sophistication.

French Style Garage Doors:


Some homeowners prefer to have their garage doors concealed completely. A set of well-crafted French doors can change the entire façade of your home without actually installing French doors. French door-style garage doors mimic the look of real French doors. And with dozens of French door styles to choose from, you can be sure you're going to get the perfect architectural match for your home's exterior design features.
Copper Garage Doors: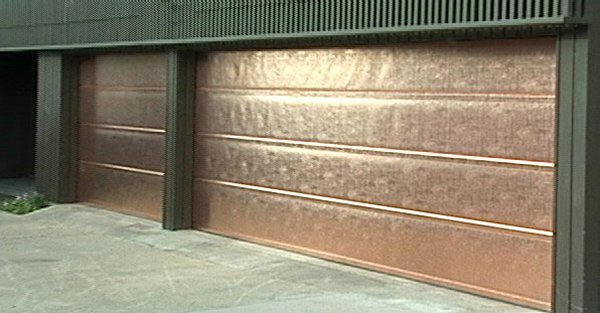 P
hoto Credit: Madden Door and Sons Inc.
If you're looking for something unique, yet virtually maintenance-free, then take a look at a copper garage door. These one-of-a-kind designed doors are made with overlaying sheets of copper. As they age, they gain a beautiful green patina that has an unmistakable look and defining character that screams elegance and sophistication. This amazing door material pairs well with wood siding and log style homes.
Any of these five uber-stylish designs will be up to the task of housing even the classiest of wheels.
If you need a new garage door, visit our showroom. One of our experts will be more than happy to help you choose the best door for your home. We've been serving customers in the Central Jersey area for over 45 years.
Call: 908-521-4728 or email resi@overheaddoorco.com