Review Us Online
"Where Quality is a Standard, Not an Option."
The team at Overhead Door Company of Central Jersey will always work hard to provide the best service possible.
And when we make a mistake, we will always correct a wrong.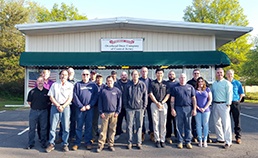 Do you have a wonderful story to share about our team members?
Please consider sharing your story with an online review on one of these platforms below.
Be sure to name any team members who played a role in your customer experience.
And, if you can, post a photo of the great job!
If you are an existing Yelp user, consider reviewing us on Yelp: