Industrial and Commercial Garage Door Openers
Commercial sites have needs that are very different from residential applications—frequency of use being the most common difference. Whereas the typical garage door opener may only be used a few times daily, an industrial and commercial garage door opener may be used several times an hour.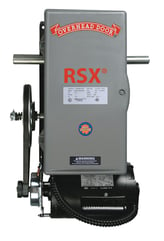 Commercial & Industrial Door Openers (Operators) by Overhead Door Corporation
Overhead Door's automatic industrial and commercial garage door openers (operators) are manufactured to meet the performance requirements of our commercial overhead doors and industrial doors, offering precise control of your door system for years of trouble-free operation. To improve safety and enhance the life of your door and motor, the industry's guidelines for quality assurance recommend a single supplier for both door and operator. They offer the industry's broadest line of electric, automatic door operators to suit new construction and retrofit applications, as well as unusual or special requirements. Overhead Door commercial operators are UL 325 2010 compliant.
Overhead Door offers an extended warranty on many of their doors when coupled with an Overhead Door brand Operator.
Commercial door operators are not the same as Residential operators only larger; they are different machines and cannot by law be used on a residence.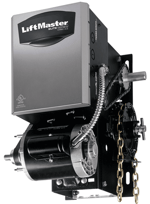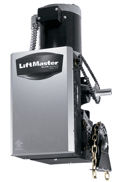 Liftmaster Commercial Door Operators
Liftmaster Commercial Door operators are built to last. They incorporate may innovative ideas and will provide years of reliable service for your facility.
With heavy industrial usage in mind, LiftMaster® has developed a full line of operators that provide the highest levels of strength and durability. As LiftMaster professionals we can assess precisely what you need and install a reliable system your business can count on for many years to come.
Commercial Door Control Systems
Once you have selected your door and operator combination, you need to think about how you want to control your system. Control systems can be as simple as the wall-mounted Open-Close-Stop push button that comes with every door or as complex as a unit that records every person that operates the door. This feat can be accomplished through the use of Individual Radio Controls, Key Cards, Digital Access Codes, or by tying the Door Operator to your building's security system.
Intermediate levels of operation include such systems as presence sensors, loop detectors, motion detectors, radio controls, timers to close, traffic control lights, safety edges and photo-eyes.
A minimum of one monitored safety device is mandated by UL in order for a door to function without having to hold the close button. The primary safety system is intended solely for the protection of people, not for protecting the door or other equipment. The primary safety system on a garage door today is usually either a monitored safety edge or a monitored photo-electric eye. We can add additional systems to a door, either existing or new, to provide equipment protection. An example of a special application would be a fire station. Very often, the equipment might be pulled halfway out of the bay and with just a photo-eye, the door might still be operable, so we add a second photo-eye or even a light curtain to protect the door and the fire equipment from an inadvertent door closure.
Overhead Door Company of Central Jersey has a wide variety of control systems, enabling you to control your commercial roll up door and to maximize the efficiency of your business.
Please call or visit us today or visit our supplier page below for more details.