When selecting an automated solution for operating commercial and industrial garage doors, either sectional doors or coiling doors, there are many options and accessories that should be considered.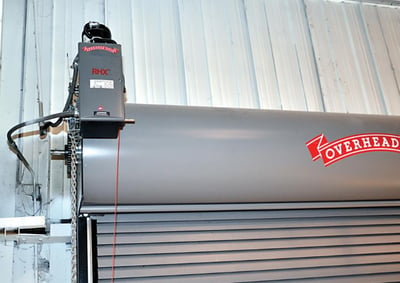 Commercial Overhead Door Operator
Automatic Garage Door Opener System for Your Commercial Garage Door
In the simplest of installations an automatic garage door opener system will feature an open/close/stop pushbutton station near the door as the sole means of operation. If the customer does not select any safety devices this pushbutton station must be wired to require constant pressure on the close button in order for the door to operate. This requires the operator to remain next to the door until it reaches the fully closed position. Should there be any reason to stop the downward travel of the door the operator simply lets go of the button and the door travel stops immediately. But what if you would like more automation?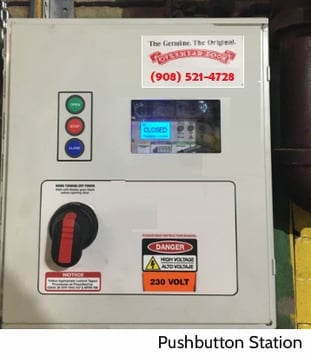 Auto-Reverse Systems: Photo Eyes & Light Curtains
There are many options in terms of automating a door system. From the most simple to the most complex, the product specialists at Overhead Door Co. of Central Jersey are available to assist with the design of your system. These options start with something as simple as being able to walk away from the door during the close cycle. This requires the addition of a safety device such as a photo eye, light curtain, or reversing safety bottom edge. Each of these devices will stop the downward travel of the door if there is an obstruction to closure. The photo-eye and light curtain are non-contact devices, meaning a person or object blocking the light beam will prevent the door from continuing the close cycle. The reversing safety bottom edge must contact an obstruction in order to stop the downward travel. In all cases, the door would return to the fully open position.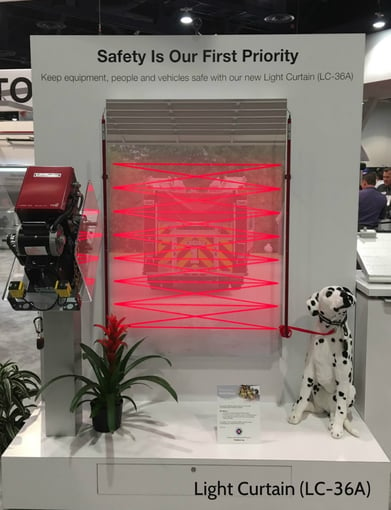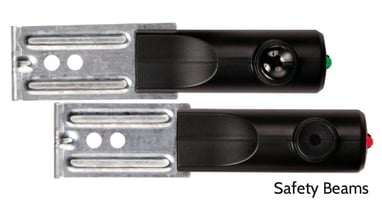 The next most common convenience device for automation is the addition of remote control or radio control to open and close the door without having to be at the pushbutton station. Most are familiar with this option – a small handheld remote control is used in place of the wall-mounted pushbutton station. This remote control for a commercial door is typically portable and can be used by forklift operators, mechanics, or whoever else may need to open and close the door conveniently while in a vehicle or operating machinery such as a forklift. In some applications, a 'pull switch' is located conveniently for an equipment operator. This device will operate the door when the operator pulls on a rope or chain that closes the circuit to operate the door. This can be preferable to remote controls as they cannot be lost and are not easily damaged.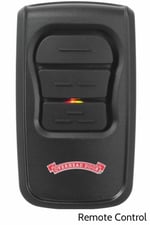 To achieve higher levels of automation it may be appropriate to add a motion detector to open the door as a vehicle approaches or a loop detector that will open the door as it senses the presence of a vehicle. This type of automation might be used in parking garages and similar installations. As a vehicle approaches, the door will open automatically. In these cases, there may be a timer to close the door automatically after the traffic passes.
Other considerations include selecting the correct NEMA rating for the application, traffic control lights, keyed lock-out devices, keyed pushbutton stations or key switches, and strobe lights and horns for ADA compliance.
Door systems can be interlocked so one door must be closed prior to another being open, such as may be the case in a police sally port or another high-security facility. Systems can include multiple safeguards such as a reversing bottom safety edge and light curtains. These multiple safeguards are particularly useful in areas where high risk and high pressure exist such as a firehouse. We see some of the most sophisticated door automation systems at auto dealerships. These facilities are subject to high usage by multiple people.
As you can see, there are endless design options to create the perfect automated door system for your facility. We've just touched on some of the more common devices here. If you have questions about designing an automated access system for your facility contact one of the product specialists at Overhead Door Co. of Central Jersey.
We can be reached at 908-521-4713 or email us at comm@overheaddoorco.com
We've been delivering quality products and services to the Central Jersey market since 1972 – over 50 years - we are always glad to work with our customers to help ensure the right solutions are chosen for a particular environment.