Commercial Garage Door Weather Strip Replacement
Your commercial garage door bottom and perimeter weather strip can wear out, get torn or damaged, suffer from rodent damage, or simply become ineffective. Don't put up with a poor seal – in most cases we can easily replace these items and keep the weather & rodents outside where they belong.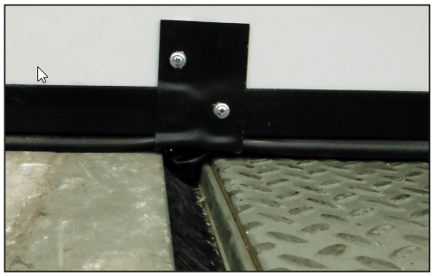 Weather strip for Commercial Garage Door
Steps to Replace Your Garage Door Weather Seal (Weather Strip)
There are several steps you can take to help us be as efficient as possible when you place a service order for weather seal/weather strip replacement. These steps are necessary as there are many different profiles and installation methods for the garage door bottom seal. Let's go through some of the ways you can assist in identifying the correct replacement part.
1. Photos: since most of us carry a smartphone one of the most helpful things you can do is take several pictures of the bottom seal. Some types of bottom seals attach directly to your commercial/industrial garage door, while others have a separate retainer strip that accepts the weather seal. Try to provide photos that clearly show the profile of the weatherstrip as well as the retainer if possible.
2. Garage Door Manufacturer: this is not always easy to determine. Some manufacturers will put an obvious identifying mark on the commercial garage door, others will not. Some of the places you can look include the inside of the panels or sections, the edges of the sections, the track assembly, and sometimes, the springs. Look for stickers, stampings, tags on the springs, etc. If there is not any evidence that allows you to identify the manufacturer provide us with photos of the inside and outside of the door sections – we may be able to identify your door product from this.
3. Thickness of Your Commercial Garage Door: there are cases where the same weather seal profile is used on different door thicknesses. In these cases, a picture will make the profile clear but not necessarily make the thickness clear. Providing the thickness of the door gives us one more clue to the correct replacement seal.
4. Width of Your Garage Door: since some weather seal products require complete replacement including the retainer this is important to know.
5. Door Height If the Perimeter Seal Is to Be Replaced: provide door height and tell us if the corners of the opening are square or angled.
With the above information in most cases, we will be able to arrive with the correct items and renew your weather seal in one trip.


Weather Seal Replacement Due to Rodent Damage
If the weather seal needs replacement due to rodent damage let us know.
At Overhead Door Co. of Central Jersey, we always do our best to address the underlying problem that led to a service call. We have several products that will deter rodents from damaging the lower corners of the perimeter seal and the ends of the bottom seal on your commercial door.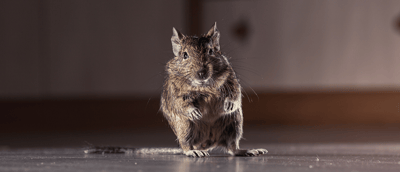 ---
Contact Overhead Door Company of Central Jersey for all your commercial door repair troubles— we'd be happy to discuss your requirements and pricing options.
We service & replace all manufacturers, brands and models of commercial and industrial garage doors and garage door operators.
---
Preventive Maintenance Plans for Commercial & Industrial Doors:
You should have your commercial overhead door serviced at least once a year if no other issues arise. It is important to have an adequate commercial and industrial door maintenance plan as it will prolong the life of your garage door while it helps you avoid costly emergency repairs and replacements.
Durability, reliability, and economy are our top priorities. Our top-quality materials and optional maintenance programs at low costs will contribute to extended door life while maintaining your productivity.