Frequently Asked Questions


Residential Garage Doors
FAQ - Purchasing a New Garage Door
→ I'm not sure if need a standard size or custom-made garage door for my home. What are the standard sizes for a residential garage door?
Typically, standard garage door sizes for a residential structure come in 8, 9, 10, 12, 15, 16, 18, and 20 feet wide. The 'standard' height of a residential garage door is 7 feet, however, most doors can be supplied in a number of heights, 6'6", 6'8", 6'9", 7'0" 7'6" and 8'0' are not uncommon, we can supply and install garage doors as tall as 14'0". Not all doors are available in all sizes. Check with us for specific sizes and custom width doors.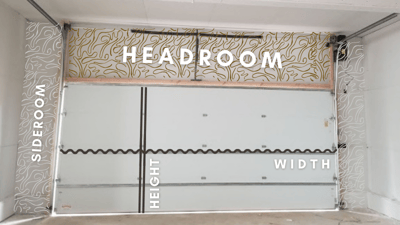 → What is R-value and how does it help my garage door?
R-value is a term used to describe the thermal efficiency of a specific material or product. The higher the R-value rating, the better insulated the product is. Overhead Door Corporation manufacturers insulated garage doors with increased R-values. Our Thermacore® garage door line has the highest R-values available—up to 17.5.
→ I want a new garage door, but I've heard it's expensive. How much does the average garage door cost?
The price of a new garage door can be influenced by many factors including size, materials, and options. Contact us today and we'll be happy to provide you with an accurate price for the specific product you are considering.
→ I have a very low ceiling in my garage. Can I still install a garage door and opener?
Yes. A typical residential garage door needs a minimum of 12 inches of clearance space. In cases where the ceiling is lower, possibly with as little as 4 inches of headroom, a low headroom track system can be installed. For garage door openers, you'll generally need at least 6 ½ inches of clearance for proper installation. Don't despair! If you have really tight clearances, we can usually find a way. We don't want to make wild promises here, just give us a call and we'll see what can be worked out.
- Click here to see our Residential Garage Doors Catalog -
FAQ - Garage Door Repairs, Maintenance & Upgrades/Improvements
→ Does a new garage door require much maintenance?
It's best to have a professional inspect your garage door at least once every two years for the best results. We can provide you with a thorough evaluation and perform routine maintenance as needed. Modern steel doors tend to require a bit less maintenance than wooden doors but all doors need to be properly lubricated and the counterbalance needs to be inspected and maintained.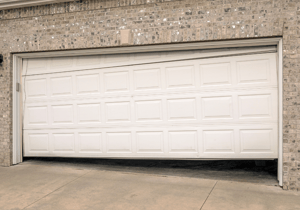 → My garage door is old and dingy. Can I paint my garage door?
In most cases, with careful preparation, you can paint a garage door. If it is an older wood door be careful as you could be dealing with lead-based paint. Almost all steel doors can be painted to any color you choose. Use latex outdoor paint. If you have a vinyl garage door or a fiberglass door, generally, these should not be painted.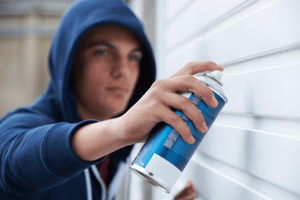 → Only a small area of my garage door has been damaged. Can I just replace one section or does the entire garage door need to be replaced?
In most cases, a garage door section can be replaced. However, unseen damages may have occurred to the garage door system. We can quickly evaluate your garage door system's health and give you a recommendation as to the best course of action for repairs.

→ Can my non-insulated garage door be insulated?
It is theoretically possible to insulate an existing garage door. However, balancing the new weight of the garage door can be problematic. Therefore, it is usually better to buy a new one. Also, the better-insulated doors incorporate a thermal break to further promote the effectiveness of the insulation. In many cases, there is more heat loss due to air leakage around the edges, than through the door itself.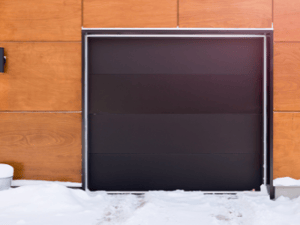 → I lost my old garage door remote—can I get a new one to replace it?
We have a wide range of garage door opener accessories and wireless keypad options for your existing garage door opener. However, if your garage door opener was made before 1980, you probably have an analog system that is no longer made. We can however install a replacement radio receiver and upgrade your opener to a modern, more secure system. If however, your garage door opener is that old, we suggest that you seriously consider replacement, as the older systems lack many of the safety systems of the new units.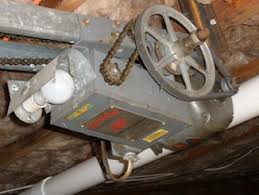 Click here to learn more about garage door repairs
Click here to learn more about garage door preventive maintenance