Residential Garage Door Openers' Best Sellers
At Overhead Door Co. of Central Jersey we sell, install, and repair/service chain drive and belt drive garage door openers.
We offer the following garage door openers/operators:

- Overhead Door Odyssey 1000 Belt Drive with DC Motor
- Low-Cost Garage Door Opener
- Smart Garage Door Opener (with Wifi) Ultra-Quiet Belt Drive Smart Opener with Camera, LED Corner to Corner Lighting™ and Battery Backup
→ Call 908-722-5785 to get an INSTANT QUOTE. ←
Best Seller:

Overhead Door Odyssey® 1000 Belt Drive Garage Door Opener
✓ Ultra Quiet, low vibration, dependable
✓ Great warranty (15-year limited belt warranty)
✓ Quiet yet powerful.Opening speed: Up to 7.5 in/second
✓ Safe-T-Beam® System is self-diagnostic by alerting customers of damage or misalignment. The door automatically ceases closing and reverses when objects pass through the infrared beam.
✓ CodeDodger®2 Access Security System: It integrates CodeDodger® technology, which selects a code from billions of combinations each time a wireless keypad or remote is used. For additional security, piracy of the radio signal is prevented.
✓ This garage door opener is companionable with Car2U® and HomeLink® car systems.
✓ Smart Phone Compatible: Add OHD Anywhere™ and have the ability to monitor your door from anywhere in the world!
✓ Wall console and 1 remote included.
** Belt drive garage door openers are quieter than chain drive openers, and require less maintenance. These are suited for both, attached and detached garages.

Python garage door openers are no longer in production. Odyssey® 1000 is the equivalent to Python openers, it is also manufactured by the same company (Overhead Door Company).
→ Call 908-722-5785 to get an INSTANT QUOTE. ←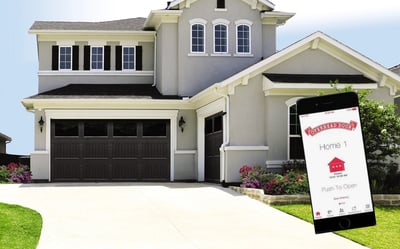 Best Seller:

Low-Cost Garage Door Opener w/Chain Operator

✓ Low-Cost garage door opener
✓ Chain operator with AC motor
✓ Dependable, low cost
✓ Considered best in no-frills operators
✓ Deluxe dual-lamp 1/2 HP residential garage door operator with superior vibration isolation mounting brackets and noise dampening acoustical foam, compatible with belt & chain drive rails
✓ Noise reduction technology
✓ Compatible with belt-drive or chain-drive T or I beam rails up to 10'
✓ Smooth, quiet operation
✓ The diagnostic system indicates six possible trouble conditions
✓ Dual 100-watt courtesy lights (bulbs not included)
✓ Built-in MegaCode format receiver
✓ All operator controls and indicators on one side
** Chain drive garage door openers are more affordable but have usually a shorter lifespan. Chain operators are best suited for detached garages, as they're louder than belt drive openers.
→ Call 908-722-5785 to get an INSTANT QUOTE. ←

Best Seller: Smart Garage Door Opener (with Wifi)
With these smart garage door openers, homeowners will be able to control their garage door from anywhere using their smartphones.
✓ Its b
uilt-in camera adds video and 2-way audio communication to the myQ® app.
✓ HD-Quaity Video: 1080p, glare-resistant, night vision lens auto-adjusts to light levels in the garage to capture everything and anything that passes through the garage.
✓ Control, secure and monitor the garage with the myQ app- anytime, from anywhere.
360° light ring uniformly brightens every corner of the garage with 2,000 lumens of long-lasting LED light.
✓ Open, close and receive alerts about garage doors on a smartphone.
✓ Battery backup lets you get in and out when the power is down.
✓ Ultra-quiet DC motor and strong belt drive system ensures comfortable living spaces near the garage.
✓ Works with Amazon Key for convenient and secure In-Garage Delivery of Amazon packages and groceries – watch deliveries happen in real-time.
✓ Walk into a bright garage with motion-detection lighting.
✓ It also comes with 2 remotes and 1 wireless keypad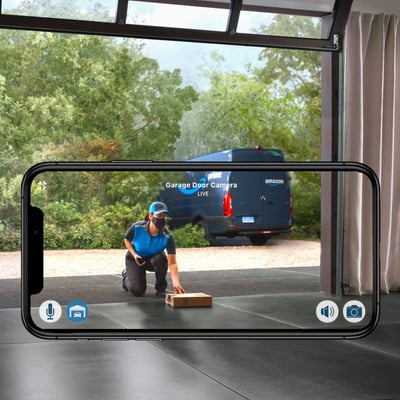 Choosing a garage door opener can be overwhelming. If you're not sure what's the best option for you feel free to contact our team of experts. We will be more than happy to assist you.
→ Call 908-722-5785 to get an

INSTANT QUOTE

. ←
RESIDENTIAL GARAGE DOOR CATALOG: