Automatic garage door openers make it a cinch to open and close heavy garage doors effortlessly. Three types of drives are available, each with its own set of advantages. No one type is the best -- that's why Overhead Door Co. of Central Jersey offers all three types. Learn about the advantages of the screw, chain, and belt drive garage openers.

1. Chain Drive Openers
2. Belt Drive Openers
3. Screw Drive Openers

→ Suggested Article: Garage Door Opener Buyers Guide ←
1. Chain Drive Garage Door Openers
The 'Classic' garage door opener is the Chain Drive unit. Here a roller chain, much like what is found on a bicycle is used. It is arranged to pull a 'trolley' back and forth in a track; the door is connected to the trolley by the draw-bar. This type of operator can be the least expensive, although the chain drive is still found on the most heavy-duty operators due to its strength. The downside to a chain drive operator is noise, so these are especially appropriate for detached garages. You might consider a noisy door a plus since it emits an audible warning when moving. Newer models are much quieter thanks to DC motors and soft start and stop.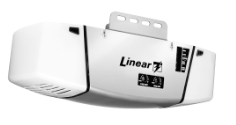 Linear Model LSO50 - Chain Drive Garage Door Opener
- Linear Model LSO50: This chain drive garage door opener with AC motor is dependable, low cost, and it is considered best in no-frills operators.
2. Belt Drive Garage Door Openers



Belt drive garage door opener is the luxury choice for those who insist on quiet operation and sleek design. These openers have the same mechanism as those used on chain drives except for the substitution of a quieter belt for the chain. The low-vibration belt is made from polyurethane, steel-reinforced rubber, or fiberglass. Belt drives are the quietest openers and cost a little more than chain drives.
At Overhead Door Company of Central Jersey we offer the following belt drive openers:
- Odyssey® 1000 Belt: This garage door opener is incredibly quiet (it operates with minimal noise). Its motor delivers all the power and speed needed to operate almost any garage door quickly and smoothly for convenience. Soft start and stop reduces wear and tear on your garage door, and the DoorDetect™ monitoring system improves overall safety. Wi-fi and smartphone control capabilities.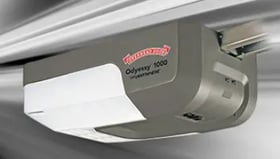 Odyssey® 1000 - Belt Drive Garage Door Opener

- LiftMaster 87504-267: This smart garage door opener has an ultra-quiet DC motor and a strong belt drive system that ensures comfortable living spaces near the garage. This opener has a built-in camera and 2-way audio communication through the myQ® app, in other words, you can control, secure, and monitor your garage with the myQ app- anytime, from anywhere. Its HD-Quality Video 1080p is glare-resistant, it also has a night vision lens that auto-adjusts to light levels in the garage to capture everything and anything that passes through the garage.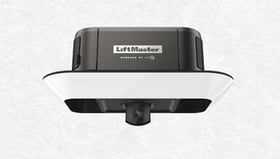 LiftMaster 87504-627 - Smart Belt Drive Garage Door Opener
---
3. Screw Drive Garage Door Openers
A screw drive garage door opener uses a steel threaded rod upon which the trolley rides. The rod is turned by an electric motor that moves the trolley and the attached door. The attraction of this opener type is its simplicity. For the DIY'er, a screw-drive opener is the easiest to maintain and has the fewest moving parts. Screw drives are somewhat temperature sensitive and may require more frequent maintenance in applications that experience dramatic seasonal temperature changes. Screw drives are noisier than belt drives and are the most expensive type of opener.
→ Suggested Article: Garage Door Openers Best Sellers ←
There are no bad choices when it comes to an Overhead Door screw, chain, or belt-drive garage door openers. Each model is designed to provide decades of worry-free operation.
Contact us at 908-722-5785 to get an instant quote, or email at resi@overheaddoorco.com to find out more about the entire line of automatic garage door openers and/or garage doors that we offer in NJ.
→ Suggested Article: 5 Unique Garage Door Designs for Your ←