Would you like to upgrade your garage door opener system? There are so many models and features. How do you select the best garage door opener system that is right for your needs?
Garage Door Opener Buyer's Guide
1. Be Sure Your Garage Door Is Working Properly
Starting with the basics it is important to be sure the garage door is in proper working order. All too often we find people would like to purchase an opener system because the door is too hard to work. The opener should only do the lifting you would normally do – it is not designed to overcome the weight and friction of a door that is not in proper repair or a door that does not have the correct counterbalance springs installed.
Once it has been determined the garage door is in proper working order there are several things that should be considered prior to the purchase of a garage door opener system.
Suggested Articles: "Annual Preventive Maintenance for Your Garage Door"&
"Should I service My Own Garage Door?"




2. Garage Door Size and Weight
How large and how heavy is your garage door? For the average door, up to 16 feet wide and 8 feet high most opener systems are very adequate in terms of lifting capability. If your garage door is oversize or if your garage door is a more custom design with a wood or composite overlay adding significantly to the weight there are several models designed specifically for these heavier overhead door systems.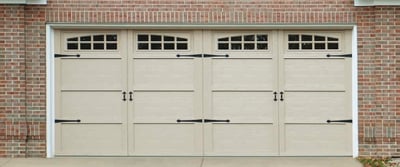 Double-Wide Garage Door: Carriage House Style

3. Decide What Features Are Important to You
Today's automatic garage door opener systems offer a wide variety of features. The most basic units will typically include an interior three-function wall control and a single remote control for use from your vehicle. These units are very cost-effective and reliably open, close, lock and light your garage. However, there are many other features to consider. These features include items such as:

- Keypad: Adding the convenience of an outside keyless entry pad.

- Controlling and monitoring your garage door from anywhere: Adding a monitor that will indicate if the door is open or closed from a remote area in your home and wi-fi connectivity allowing the garage door system to be monitored for security and operated from a remote location.

- Battery backup: On many units using a direct current (DC) motor rather than a conventional alternating current (AC) motor a battery backup device is either standard or can be added, allowing the system to lift or close the garage door even in a power outage.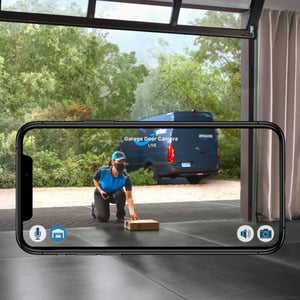 Control and Monitor Your Garage Door from Anywhere

4. Noise Level: Belt Drive vs Chain Drive Garage Door Openers
The noise level should be considered at the time of purchase. Garage door opener systems most often use a chain, a belt, or a threaded 'screw drive' to lift the door.

- Belt Drive Motors: Belt drives are the quietest openers and cost a little more than chain drives.

- Chain Drive Motors: This type of garage door opener can be the least expensive. The downside to a chain drive operator is noise, so these are especially appropriate for detached garages. Newer models are much quieter thanks to DC motors and soft start and stop.
Suggested Article: Chain vs Belt Drive Garage Door Openers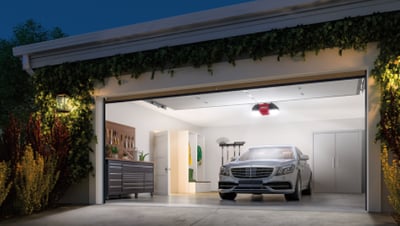 Belt Drive Garage Door Opener (Quiet)

5. Opener's Placement
You can purchase a ceiling-mount or a side mount opener system.
- Ceiling-mount Opener: These openers are the most common ones. Located over the center and attached to the ceiling. This style is reliable and cost-effective, both in terms of the initial purchase price and maintenance. Additionally, these garage door openers are designed to lift heavier doors.
- Side-mount Openers: There are times when it may be desirable to have the garage door opener system mounted beside the door. This type of opener is called a jackshaft, wall-mounted garage door opener, or side mount opener system and is limited to use with a torsion spring counterbalance in the standard lift of lift clearance applications (more about springs, headroom, and types of track in another post). This style is common in garages with high or irregularly shaped ceilings. Unlike the ceiling mount, this type of system is connected to and relies on the torsion bar to operate the garage door.
It's important to keep in mind that these openers can't lift heavy doors, and they require substantial headroom to operate correctly. You will also need to ensure that you have adequate space and an electrical outlet adjacent to your garage door.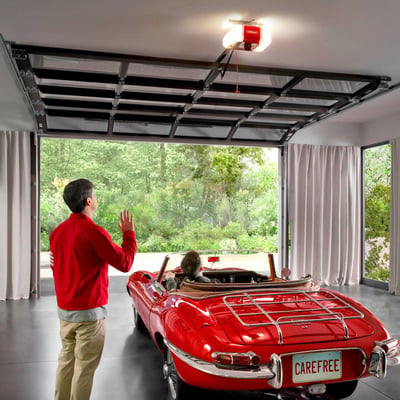 Ceiling-mount Garage Door Opener
Suggested Article: When to Repair and When to Replace Your Garage Door Opener?
So, where do you go to get all of your questions answered and make the best decision for your needs? If possible visit a professional garage door dealer like Overhead Door Co. of Central Jersey.
Be sure they feature a showroom that includes working models of garage door opener systems. Evaluate the features, noise levels, price points, warranties, and perhaps most importantly, the company you choose to install your new automatic garage door opener system.
Contact us today, you can call 908-722-5785 or email us at resi@overheaddoorco.com. One of our product specialists will assist you in the selection process to be sure you get the right product for your garage door.