Control & Monitor Your Garage Door from Anywhere
With Your Smart Phone and/or Tablet
Today more and more mobile devices, smart phones, tablets and laptops are being used to control home features, including lighting, air conditioning and security systems. Garage doors are catching up to the rest of the world. With the proper add-on module and an 'App', one can control and monitor your garage door from anywhere in the world.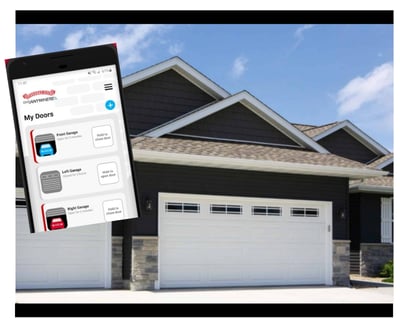 Benefits such as additional security, ease of access and simple convenience are just a few of the many reasons why so many homeowners are using mobile devices to control their garage door openers. You can even tell if the door is open or closed, how long it has been open or closed and when it was last opened! Have a delivery coming? Have the driver call you, you can open the door from work and then close it and you KNOW the door is closed because your 'App' will monitor this.
If you're looking for ease of access to your garage door opener through a mobile device, we can help. Overhead Door Company of Central Jersey features a wide selection of garage doors and garage door openers that will work with your smart phone or tablet. Call us today and we'll provide you with details.


---
OHD Anywhere®
Control and Monitor Your Garage Door From Anywhere
OHD Anywhere® monitors who is going in and out your garage door and allows you to open or close the garage door with a smart device such as a tablet, iphone or android phone. It is compatible with most iOS and Android moible devices and is compatible with most residential garage door openers.
Features:
✓ Ability to monitor the garage door position (open or closed)
✓ Ability to operate your garage door from your smart device
✓ Monitors any changes to the garage door position
✓ Ability to know if an authorized user is operating the door with the OHD Anywhere® App
✓ Allows up to 20 different users to access one account
✓ Maintains access history report for each garage door opener
✓ It can operate up to 3 different doors by programming additional Door Sensors
✓ UL325 compliant

Compatibility:
The OHD Anywhere® is compatible with most manufacturer and model residential garage door openers including:
✓

Chamberlain


✓

Lift Master


✓

Genie


✓

Overhead Door


✓

Craftsman (non purple atenna wire models)

✓

Linear


✓

Marantec


✓

Stanley


✓

Wayne Dalton


- Please Note: If installing an OHD Anywhere kit to a Genie or Overhead Door Series III garage door opener, it is necessary to use a Dry Contact Adapter. You can identify a Genie or Overhead Door Series III garage door opener by the wall console. A Series III wall console will have black buttons.