Fire-Rated Doors Drop Test & Annual Inspection




Commercial & Industrial Doors
The NFPA requires building owners and managers to have annual inspections and tests on their rolling and sliding fire rated doors, as well as the smoke/fire rated curtains and to maintain written documentation of such inspections.
At Overhead Door Co. of Central Jersey, we offer Fire Door Drop Tests and Annual Inspections to help building owners and managers stay compliant with the most recent NFPA 80 standards while ensuring proper operation and full closure of their facility's rolling (rollup fire gates, roll-down fire shutters) and sliding fire doors.
- We have over 47 years of experience - Our staff is certified and very well trained.

We will provide:
1. A Fire Door Inspection Report
2. A Fire Door Certification Sticker
3. We will save a copy of your Fire Door Inspection Certificate and Drop Test results in case of an emergency or compliance questions.

---



FIRE RATED DOORS AND SMOKE RATED DOORS: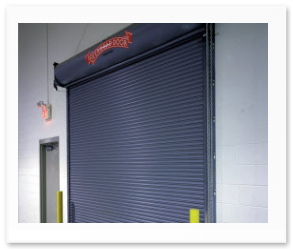 Fire Rated Door Model 631
Fire Rated doors are designed to close automatically in the event of a fire or alarmed event.
These are available for service door and counter applications in commercial, industrial, institutional and retail projects. They will meet the most demanding fire safety standards, unusual opening sizes, and discerning aesthetic requirements.

We provide fire doors with UL or FM labels and are listed for both masonry and non-masonry applications.
Contact us. Our staff will be more than happy to answer any questions and provide additional information that you may need.


---
FIRE RATED CURTAINS AND SMOKE RATED CURTAINS:
Our fire rated curtains and smoke rated curtains are used for openings in walls, ceilings, and facades in corner situations. We have fire protection which goes around the corner to enclose areas. We even have curtains to protect openings in facades with a minor distance between buildings.
Our product line is commonly used in airports, assurance buildings, automotive industry, banks, barracks, canteens, car dealerships, car parks, cinemas, cold storage rooms, commercial properties, food industry, furniture and hardware stores, historic monuments, homes for elderly, hospitals, hotels, industrial plants, kindergartens, museums, office buildings, public buildings, residential buildings, schools, shopping centres, timber industry, town halls, train stations, training centres, underground train stations, universities, warehouses.
​​PHOTO GALLERY OF OUR WORK:
OTHER COMMERCIAL DOORS:
| | |
| --- | --- |
| | |
| | |
| | |
| | |
| | |
| | |
| | |