Commercial & Industrial Garage Doors
Overhead Door Company of Central Jersey has been installing, repairing, and maintaining commercial and industrial garage doors and loading dock equipment since 1972.
Commercial and Industrial Overhead Doors/Garage Doors Catalog:




Sectional Doors: Insulated & Non-Insulated





High-Speed Doors
Roll-Up Doors



Fire-Rated Doors and


Fire-Rated Counter Doors


Side-Folding Security Grilles





Upward-Coiling Security Grilles




Counter Doors


Aluminum Glass Overhead Doors

High-Speed Rubber Rolling Doors

Hurricane-Resistant Overhead Doors




High-Speed Fabric Doors


As you can see, we offer all types of commercial and industrial garage doors and garage door products, insulated doors, high-speed fabric doors, service doors, fire-rated garage doors, security grilles, and components, commercial operators (openers), and control systems.
All of our commercial overhead doors and roll-up doors are built to the highest standards. Combining quality, dependable products with reliable service to consistently give home and business owners confidence and peace of mind.
---
What to Consider When Choosing a Commercial Garage Door?



Whether you need to replace your existing commercial garage door or are working on a renovation project, check out our tips on what to consider when choosing the best garage door for your business:
→ Usage: When looking for a new commercial garage door, you'll also want to consider how often you typically use your current door, as well as the level of protection that you need. Do you open and close it constantly throughout the day? Depending on how much traffic goes through it, you'll want to make sure you choose a door that can withstand that level of usage.
→ Material: A commercial garage door consist of materials ranging from aluminum to steel. The specific material you choose can impact the door's look and longevity.

→ Insulation: To protect your business from high temperatures, wind, or rain, Some commercial doors need insulation to protect your business from high temperatures, wind, or even rain.

→ Maintenance: Be sure to consider how much maintenance the specific garage door you are considering will need based on the model, and how often you use it.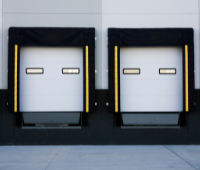 Loading Dock Equipment
---
Preventive Maintenance for Commercial and Industrial Doors
You should have your commercial garage door serviced at least once a year if no other issues arise. It is important to have an adequate garage door maintenance plan as it will prolong the life of your garage door while it helps you avoid costly emergency repairs and replacements. We offer preventive maintenance for commercial and industrial overhead doors in Central Jersey.

---
Fire Door's Annual Inspections and Drop Tests
The NFPA requires building owners and managers to have annual inspections and tests on their fire-rated rolling doors and to maintain written documentation of such inspections.

At Overhead Door Co. of Central Jersey, we offer Fire Door Drop Tests and Annual Inspections to help building owners and managers stay compliant with the most recent NFPA 80 standards while ensuring proper operation and full closure of their facilities' rolling fire doors (also known as roll-up fire gates, roll-down fire shutters).
---


Commercial and Industrial Overhead Doors Repairs
Contact Overhead Door Company of Central Jersey for all your commercial and industrial garage door repair troubles— we'd be happy to discuss your requirements and pricing options.

We service & replace all manufacturers, brands, and models of garage doors and commercial door operators.
Other keywords: dock doors, loading-bay doors