A loading bay door is a door at the entrance or exit point in a commercial or industrial building where the goods are loaded or unloaded from the trucks.
A loading bay is an area of a commercial or industrial building (such as a warehouse) where transport vehicles are loaded and unloaded. It is one of the most important areas of the building that must be kept efficient, as it manages the inflow and outflow of goods. The bay door is usually a roll-up door (service door) or a sectional door. Loading-bay doors are also known as loading dock doors.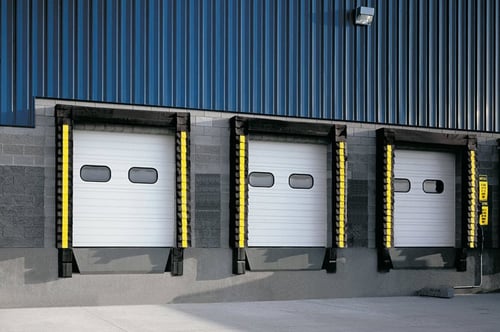 Loading Bay with Sectional Overhead Door, Dock Shelter, and Dock Leveler Installed
In Overhead Door Company of Central Jersey, we carry only the very best brands of loading-bay doors so you can be certain that your overhead door is going to last long. We manage a large variety of sectional and coiling doors, made with different materials such as fabric, steel, glass, aluminum, and rubber commercial garage doors.


Commercial Bay Doors
As it will protect your property from theft and the exterior elements, investing in high-quality bay doors will pay off in the end, no matter your business size or industry, it becomes very important to have a secure and stable bay garage door:

1. Overhead Sectional Doors: We offer a wide selection of sectional steel doors (non-insulated and insulated overhead doors) that are customizable to meet your project requirements.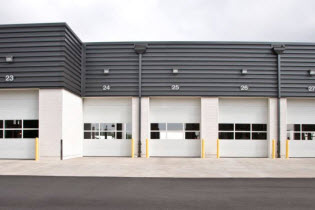 Sectional Overhead Doors (Insulated & Non-Insulated)


2. Rolling Steel Doors: We install, service and repair insulated and non-insulated roll-up service doors, counter doors, fire-rated overhead doors, parking garage coil-up doors, and even security grilles for your loading dock.
3. Rolling Fabric & Rubber Doors: We offer high-speed fabric and rubber roll-up doors (for interior and exterior applications) that prevent air, dust, and any airborne contaminants from exchanging between the controlled and non-controlled environments. They are fast, aesthetically pleasing, and also require minimal interruption for maintenance.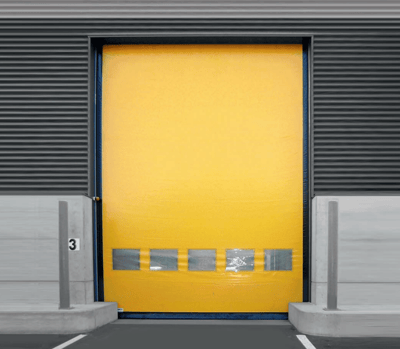 Exterior Fabric Roll-Up Door

Experts In Bay Doors Installations & Repairs
We install and service loading dock doors, as well as all types of overhead doors, and roll-up garage doors such as coiling doors, security grilles, high-speed fabric doors, sectional doors, high-performance doors, and fire-rated doors, in the Central Jersey area. Contact us for any commercial door needs. Our team is here to help!
Loading Dock Parts for Sale:
At Overhead Door Co. of Central Jersey, we also sell commercial doors, and loading dock parts such as:
- Weatherstripping for commercial garage doors
- Bay door screens (loading dock bug screen doors)
- Electric operators (bay door openers)
- Chain hoists
- And much more!
Visit our Parts Counter, or give us a call at 908-722-5785.