Commercial doors and industrial doors must be reliable, durable, functional and secure. Oh yes, it helps if they are also attractive and competitively priced. It takes a wide range of products to meet the needs of today's myriad commercial and industrial applications for doors, grilles and shutters.
Overhead Door of Central Jersey has the perfect solution for virtually every commercial need, and can also provide custom doors for special applications. All of our doors are built to the highest standards with quality materials and expert craftsmanship. Here is a sample of the different types of commercial garage doors we sell:
1. Sectional Doors (Insulated & Non-Insulated)
2. Aluminum Glass Overhead Doors
3. Roll-up Service Doors (also known as Coiling Doors)
4. Security Grilles
5. High-Performance Doors
6. High-Speed Metal Doors
7. Fabric Roll-Up Doors
8. Fire-Rated Doors
9. Counter Doors & Counter Shutters
10. Shutter Doors
11. Wind Load Doors


---
Types of Commercial & Industrial Overhead Doors:
1. Sectional Doors (Insulated & Non-Insulated):
Sectional overhead doors are typically constructed from galvanized steel panels with internal insulation to provide thermal isolation and sound reduction. Customers can select from a variety of metal gauges, panel profiles, track styles, hardware and glazing. Some applications require heavy-duty doors to resist the elements – rain, wind, dampness and temperature extremes.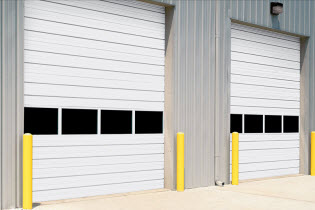 Sectional Steel Doors with Windows
For example, the Model 418 uses 16-gauge flush galvanized steel panels that are 2 inches thick and provide an R-value of 7.35, ideal for thermal protection. The Model 422 doors are similar but come with a 20-gauge ribbed steel exterior, perfect for protection against the elements.
Our Thermacore® Collection provides extra insulation and resistance to high wind loads. The Advanced Performance Model 850 boasts of 3-inch-thick panels and an R-value of 26 for the most demanding applications.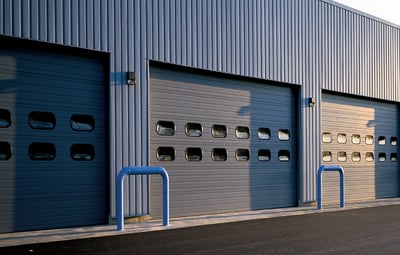 Insulated Sectional Steel Doors | Thermacore® Doors


2. Aluminum Glass Overhead Doors:
These are aluminum sectional doors with glass panels. They are typically used in architectural situations that demand light transmission and visual access. Commercial and industrial customers can choose from a nice variety of glazing materials, stile widths, finish options and track styles. For example, the sleek, attractive Model 511 can be ordered in sizes exceeding 16 feet in width and height, with a narrow center stile width and myriad choices for glazing, finishes, top/bottom stile widths and special customization options.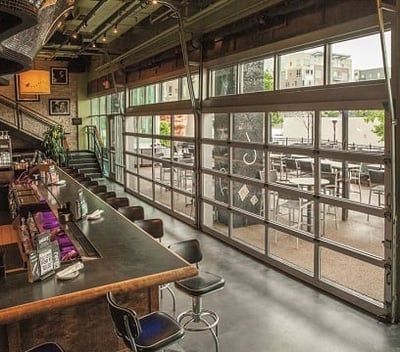 Aluminum Glass Overhead Doors

3. Rolling Service Doors (Insulated & Non-Insulated)
Rolling service doors (also known as roll-up doors and coiling doors) are typically constructed from interlocking flat or curved slats of galvanized steel, stainless steel or aluminum that coil around a drum to open and close. These doors are just the ticket when space is tight. The Storm-tite™ Advanced Performance Model 627 rolling steel door provides thermal protection (R-value of 10.9), low sound transmission, weather/wind protection and special security features. The standard finish is available in gray, brown, tan or white, or you can opt for any of over 200 available PowderGuard Finish colors.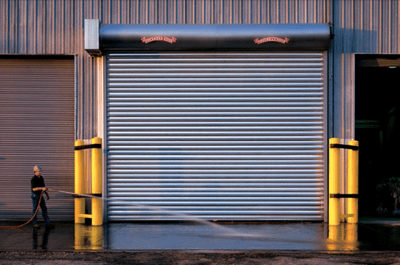 Rolling Service Door, Roll-Up Door, Coiling Door
Other specialized rolling door models include the RapidSlat Advanced Service doors which combine high speed with high cycles, durability and security, and the Fire-Rated Rolling Service doors.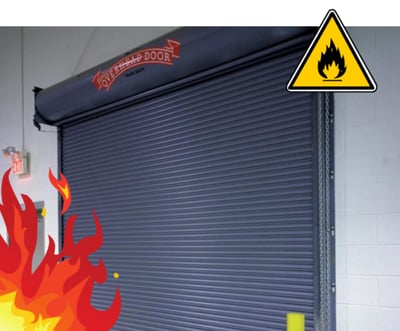 Fire-Rated Rolling Door
4. Security Grilles:
Available in side-folding or upward-coiling models, the aluminum or galvanized steel units provide advanced design and safety features in your choice of patterns and colors. You can specify electric motor operation and open-air design.
✓ Side-Folding Security Grilles - The side-folding grilles, such as Model 678, are the shortest-stacking, lowest-profile units of this type on the market. This model provides full closure to form a security barrier against debris and theft – great functionality for malls and airport concourses – and can be specified with panels made of clear polycarbonate, perforated steel, aluminum or tempered glass in standard and wide-model units.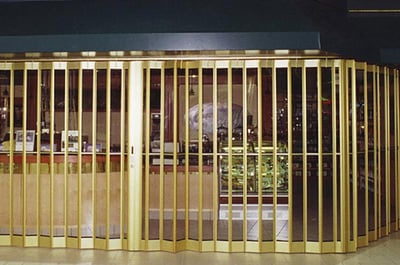 Side-Folding Security Grille: Ideal for Malls, Airports, etc.
✓ Upward Coiling Security Grilles - Constructed of aluminum, stainless or galvanized steel -- with an optional electric motor -- these grilles are designed for durability and easy operation. Our comprehensive line of security grilles affords both reliability and peace of mind. With all these choices there is certain to be a product that is perfect for your project.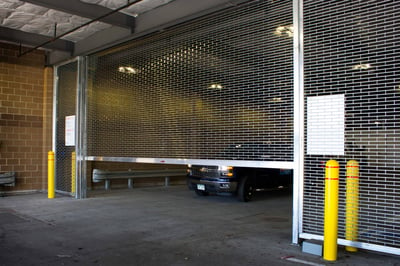 Upward Coiling Security Grille for Parking Garage
5. High-Performance Doors
High-performance doors have features above and beyond the standard coiling, sectional or sliding door. Most common high-performance doors are defined as high-speed doors, but these can also be insulated doors, or doors that can absorb an impact.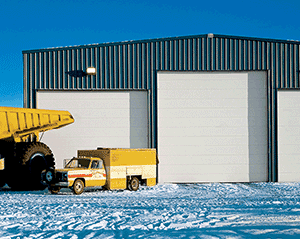 High-Performance Doors


6. High-Speed Metal Doors
High-speed doors provide optimum insulation, reduce loss of conditioned air and contribute to energy savings. Our high-speed metal doors are fast, aesthetically pleasing, and also require minimal interruption for maintenance. Their opening speeds go up to 80" per second.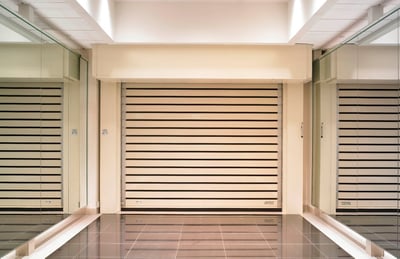 High-Speed Metal Doors


7. Fabric & Rubber Roll-Up Doors
Interior and exterior fabric and rubber commercial rolling doors are offered with cutting-edge automation and safety devices. If you require high-speed automated products, Overhead Door Corporation offers RapidFlex™ Fabric Doors® and RapidFlex® Rubber Doors.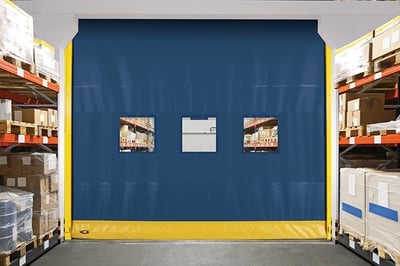 Fabric Roll-Up Door


8. Fire-Rated Doors & Fire-Rated Curtains
Our fire-rated roll-up doors are

designed to close automatically in the event of a fire or alarm event. A
vailable for service door and counter applications in commercial, industrial, institutional and retail projects. They will meet the most demanding fire safety standards, unusual opening sizes, and discerning aesthetic requirements.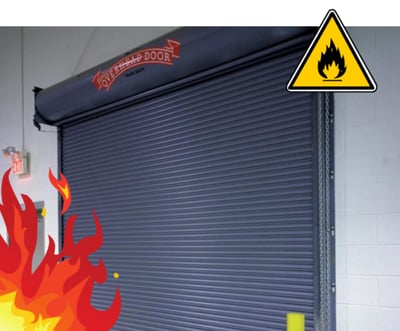 Fire-Rated Door
9. Counter Doors & Counter Shutters
Counter doors serve many purposes, they are an ideal solution for commercial, retail, corporate and professional environments such as: cinemas, food courts, ticket counters, kitchen service counters, bars, pharmacies and more.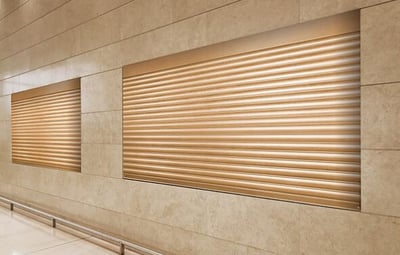 Counter Door
10. Security Shutters
Good protection for high pedestrian applications such as hospitals, pharmacies and liquor stores that require security without sacrificing flexible aesthetic options.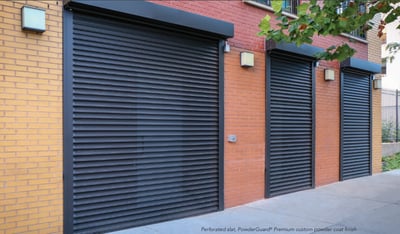 Security Shutters
The Allura Shutter Model 653 has a curtain constructed of interlocking extruded .05-inch aluminum slats that offer open or partial fenestration or perforation, standard finishes in silver, bronze, white or almond, or your choice of wood grain or powder coat finishes.
11. Commercial & Industrial Wind Load Doors
Installing a commercial wind load door to your commercial or industrial overhead door, you also get peace of mind during times of high winds from hurricanes and extreme conditions.​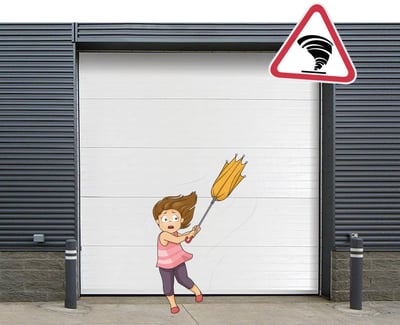 At Overhead Door Company of Central Jersey, we sell, install, repair and maintain both, commercial and industrial overhead doors, roll-up doors and side-folding doors. Our specialized technicians are waiting for your call to discuss your commercial/industrial door and loading dock requirements.
Call at 908-722-5785 or email us at comm@overheaddoorco.com. We've been serving the Central Jersey area for 49+ years.