Commercial doors must do many things and do them well. They must be durable, have a long operating life, offer design flexibility, be easily maintained, and in some cases, they must provide superior insulation against temperature and sound.
These needs continue to drive the development of new and better designs, culminating in the Overhead Door Thermacore Advanced Performance Model 850, this insulated sectional door is engineered to deliver advanced performance in commercial and industrial applications where climate control, durability, and ease of maintenance are primary concerns.
→ Click here to learn about the best residential insulated garage doors ←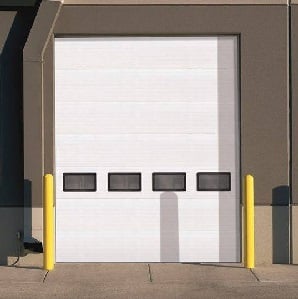 Overhead Door Corporation's Thermacore AP Model 850
Door manufacturers use three standard metrics to measure thermal efficiency:
- R-Value: This is the ability of an insulator to resist the flow of heat, measured in terms of heat transfer per unit of time. Higher R-values indicate greater insulating performance. A good residential door typically has an R-value around 10, give or take a few units. By contrast, the Model 850 has an R-Value of 26.
- U-Value: This is called the overall heat transfer coefficient and is equal to the watts of energy transferred through one square meter of a structure divided by the difference in the temperatures on either side of the structure. Low values indicate a door is a poor conductor or good insulator, and the Model 850 has a very low value of 0.038.
- Tested U-Factor: This might be the most important metric because it measures an installed door's actual loss of heat or cold in real-life use. Lower numbers indicate less energy loss, which can be further cut by choosing white or brightly colored doors that reflect sunlight. The Model 850 has an industry-leading U-factor of 0.14.
→ The 850 leads the industry in all three thermal metrics, in other words, it is the ideal choice for thermal protection against heat or cold in heavy-duty applications
The Model 850 is able to achieve best-in-class thermal efficiency by using three inches of high-density polyurethane foam that have been manufactured without harmful CFCs and HCFCs. This material is the most efficient door insulator available. The Model 850 surrounds the central core with an advanced perimeter system to guard against air infiltration. This construction also minimizes sound transmission, earning the door an excellent rating of 22.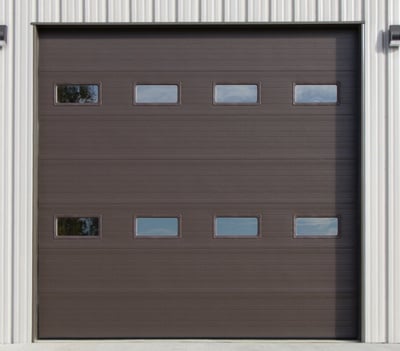 Overhead Door Corporation's Thermacore AP Model 850
→ Visit our Commercial Doors' Catalog ←
The Thermacore® AP door system sections feature continuous steel strips that run along the width of each section which allows hinges to be placed anywhere along the section, unimpeded lite placement, and easier center mounting of a trolley operator.
Operation options: include chain hoist and electric operator.
There are a variety of options of operation and mounting (left or right-handed) that allows us to meet the needs of the facility and application.
Thermal Barrier: Air Infiltration
Good thermal efficiency is worthless if a door allows wind and drafts to infiltrate the thermal barrier. The Model 850 is able to achieve an excellent value for resistance to air infiltration against a 15 mph wind of only 0.09 through several important design features:
- Jamb seal combining two sealing elements -- a flapper and bulb seal
- Header seal
- Bottom weather seal with dual bulb seals and a PVC retainer to prohibit air and water infiltration
- Dual barrier tongue and groove joints
- PVC blocks at the ends of the door stiles reduce thermal transfer
- Curved wall angle provides tighter fit of the steel jamb seal
→ Click here to learn more about other Insulated Sectional Doors ←
Many applications require one or more glass lites installed on a door to provide light and visibility. When you choose a commercial insulated door, you want to make sure that the lites don't compromise the door's thermal efficiency. The Thermacore AP design offers large thermal lites (25" x 13") in black or color-matched to the door. The lites contain insulated and tempered polycarbonate in clear, white, or bronze colors. The glass is configured with multiple walls to provide increased insulation.
Beyond thermal efficiency, industrial and commercial doors may require special options, such as heavy-duty springs and components designed for a long lifetime, an electric operator, a bottom sensing edge, and left- or right-side mounting. Where security is an issue, you might opt for:
- Extra locks
- A sensing eye
- Photo-eyes
- Cable failure device
The Model 850 provides all of these options, and more. Lastly, there are always some esthetic considerations, such as color. The Model 850 is available in decorator taupe, almond, brown or white exteriors, with a white interior. The exterior surface is micro-grooved and textured. Model 850 carries a warrant for 10-year delamination, 1-year material and workmanship, and 3-year/20,000 cycle door and operator system (material and workmanship).
→ Click here to read the Thermacore AP Model 850 brochure ←
Businesses and individuals who have a need for a thermally protective commercial/industrial door will find that Overhead Door Corporation's Thermacore AP Model 850 ticks all the boxes and provides the best specs available.
Contact our team to get additional information about this specific insulated sectional door. We look forward to assisting you. We've been serving the Central Jersey area for almost 50 years.
Visit our commercial and industrial overhead doors catalog and/or our loading dock equipment catalog.