History
Overhead Door Company of Central Jersey started operating back in 1972. In, 2022, we celebrated our 50th anniversary with our team members and invited guests, including Mayor James Schworn of Branchburg Township. Mayor Schworn presented a proclamation and declared December 22nd as "Overhead Door Co. of Central Jersey Day" on behalf of the township.
Interesting Facts: Since 1972, Overhead Door Co. of Central Jersey has installed over

70,000 garage door

s and serviced over

300,000 customers

in the Central Jersey area, we have provided employment to almost 1,000 people, and operated over 300 vehicles.
How it All Started
The story of Overhead Door Co. of Central Jersey (ODCCJ) is also a story of American family values. The Norman family started the garage door business in 1972, as a supplement to a family business that had begun 15 years earlier. Overhead Door Co. of Central Jersey (ODCCJ) rapidly overtook the parent company. In short order, the decision was made to concentrate solely on garage doors and openers.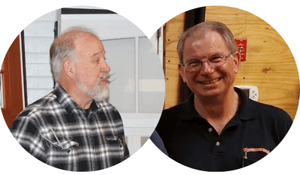 Jim and Tom Norman - Founders of Overhead Door Co. of Central Jersey
The Norman brothers, Jim and Tom, set out to provide the community with the highest quality residential and commercial garage doors. In fact, even today, it's not uncommon for ODCCJ to service residential and commercial garage doors installed during the early days of the company, such as the quality and craftsmanship that goes into each door.
As the country's tastes evolved, so did ODCCJ's extensive offering. In addition to traditional and carriage house garage doors, the company also offers residential customers a wide variety of contemporary doors and even custom solutions. Commercial garage door users will be impressed by ODCCJ's efficient and reliable commercial offerings. These include sectional, coiling, and high-performance doors as well as all the accessories needed to operate and maintain these entranceways.
A New Chapter Begins
In April 2016, Makers Door Group, a family-business organization, purchased the company from the Norman brothers. Today the company provides employment to over twenty-five knowledgeable team members who are proud to provide the finest garage door products, coupled with dedicated service to their customers.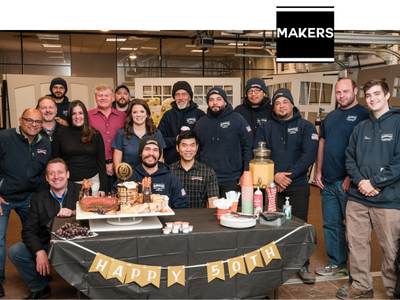 50th Anniversary Celebration

Since 1972, our company has lived by the motto, "Where Quality is a Standard, Not an Option.". And so, we hope to be serving you for another 50+ years to come!