Garage Door Openers/Operators
At Overhead Door Co. of Central Jersey, we sell, install, and service residential (and commercial) garage door openers, and accessories.
Table of Content:
1. Garage Door Openers Replacements
2. Garage Door Openers Service and Repairs
3. Accessories for Garage Door Openers (Keypads, Clickers, etc)
4. Garage Door Opener Technology: OHD Anywhere® App
5. Heavy-Duty Rails to Reinforce Your Garage Door Opener

1. Garage Door Opener Replacements
Our automatic garage door openers are designed to operate quietly and efficiently, yet with the power and performance that you need to ensure your garage door will work precisely when you need it most. You can get an instant estimate by calling 908-722-5785.
---

2. Garage Door Openers Service and Repairs
From basic maintenance to complete installation and service, our staff is ready to help you with all of your garage door opener needs.
If your garage door opener is making strange noises, is having trouble opening, or isn't working at all, you can rely on the experts at Overhead Door Company of Central Jersey to solve these issues. Since 1972, we have helped nearly half a million homeowners and business owners, across the state, to solve their garage door and garage door opener troubles.
---
3. Garage Door Opener Accessories



We offer a variety of convenience-enhancing accessories for your garage door opener. Among them is a line of keypads and universal opener remotes, which put ease and comfort at your fingertips. To help you enjoy your new garage door opener to the fullest, these optional garage door opener accessories each feature something different.
Universal Wireless Keypads for Garage Door Openers:

The convenience and versatility of the Universal Wireless Keypad offer customers leading innovation for everyday life. The Universal Wireless Keypad, for example, simplifies the lives of homeowners with one device and PIN. Compatible with some of the most popular garage door opener brands sold in the U.S., the Universal Wireless Keypad is easy to set up and control with simplified keypad programming and efficient back-light coverage.



Universal Remote for Garage Door Openers:

Our universal remotes can be programmed to operate a combination of up to four garage door openers or gate receivers, reducing the clutter of multiple remotes and replacing it with a single, convenient device. Our universal remotes are compact enough to fit in the palm of your hand and come with a versatile visor clip and key ring loop in every box.
Overhead Door® Wireless Wall Console:

The Overhead Door® Wireless Wall Console is another of the many wall consoles and keypad options available. It is an innovative, battery-powered solution for your garage. The LED backlight has two pulsating speeds and will turn red to notify you when your console batteries are running low. This control door system eliminates the need for wires running up the wall. It also has an up/down door button with an optional LED backlight and a separate work light button to control the light on the opener. This console includes a "Jogger Button," which provides a useful 10-second delay.
Don't want to come to pick up your garage door accessories? Give us a call, you can make your order via phone call and we will ship the parts to your home.
---
Our OHD Anywhere® app allows you to control and monitor your garage door from anywhere with your smartphone.
✓ Know when someone is operating your garage door, and opens the door for a delivery, repair person, or friend without having to provide the access password to your garage.
✓ Check if your garage door is open, or closed or if there is any change to the door position.
✓ Access the history of each of your openers. OHD Anywhere® app provides helpful security information of exactly when the door was used, including the day/time.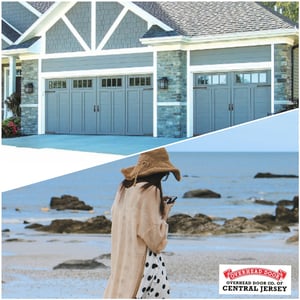 The OHD Anywhere® is compatible with most manufacturer and model residential garage door openers including:
✓ Chamberlain
✓ Lift Master
✓ Genie
✓ Overhead Door
✓ Craftsman
✓ Linear
✓ Marantec
✓ Stanley
✓ Wayne Dalton
---
5. Heavy-Duty Rails to Reinforce Your Garage Door Opener
The Heavy Duty Rail is also available to reinforce the tallest and heaviest garage doors. These rails can be installed by a single technician with ease. The sturdy design keeps rail deflection at a minimum to offer you confidence in its performance. Compatible with all existing Overhead Door® openers, the Heavy-Duty Rail can supplement any screw, belt, or chain drive models, reinforcing the motor rail, and bolstering the opening system.

Heavy-Duty Rail for Garage Door Openers
No matter what kind of garage door you own, there are many openers and accessories options available for you.
Contact Overhead Door Company of Central Jersey to learn more about these and other convenient products that we have for your garage door and garage door opener needs. Call 908-722-5785 or email us at resi@overheaddoorco.com.