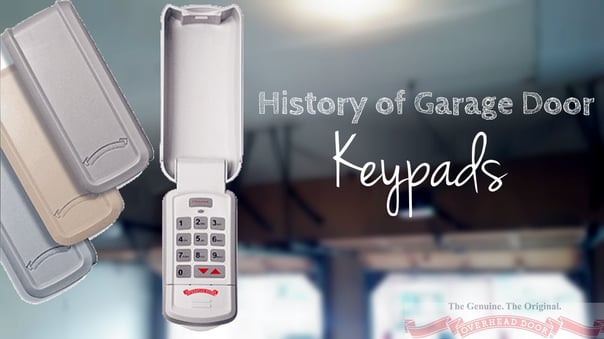 Has it always been so easy and convenient to open your garage door? Well, not really. When Overhead Door Co. of Central Jersey began selling, installing and servicing garage doors 45 years ago in 1972, most garage doors did not have an electric opener system. This meant pulling into the driveway, getting out of the car regardless the weather and opening the door manually. Garage door opener systems were truly a luxury item at that time.
HISTORY OF GARAGE DOOR KEYPADS
The earliest garage door opener systems did not feature a hand held remote control transmitter. A transmitter device was permanently installed in the vehicle, attached to the battery and a pushbutton was mounted on the dashboard. Before long smaller portable remote control transmitters were available. This addressed some inconveniences, but what if a homeowner needed to open the garage door and the transmitter was not conveniently available?
This question led to the addition of a simple 'key switch' which mounted on the door jamb and was wired to the automatic opener system. This switch worked the same as an interior pushbutton only the user inserted and turned a key to make contact rather than pushing a simple wall button. More convenient but now one must carry and keep track of an additional key or keys if there were multiple users. Also, this device did not provide a great deal of security as it was hard wired to the motor and could be shorted to activate the door.
With advances in technology came new ideas. Why not develop a way to activate the automatic opener that does not require a key? Maybe a jamb mounted control with a touchpad that resembled the buttons on the 'new' digital phones? This led to the development of an electronic keypad. The user could now enter a combination of numbers that would complete the circuit and activate the door opener system as if they had pushed the interior pushbutton. Now any family member with the combination could use the door without a transmitter or key! The early models were all hard wired to the opener system and in many cases were universal, meaning an appropriate device could be wired to almost any opener system. We're really talking convenience now!

As technology continued to move forward additional security has been built into these devices. Keypads are now wireless. Without wires the ability to remove the device from the jamb and short the wiring to gain entry has been addressed. Keypads have also become fully programmable, including options to program for multiple doors or one time use. One time use can be convenient to authorize entry for a delivery or similar one time event. Once used the code drops out and the system is once again secure. Most keyless entry systems feature the same random rolling code technology as today's highly secure hand held remote controls. Additionally, some manufacturers now offer keypads with fingerprint control rather than a combination of numbers. Maybe these are more properly called automated entry pads rather than keypads!
If you don't have a keypad or if the keypad you have is not functioning properly, Overhead Door Company of Central Jersey has a broad selection of keyless entry devices in stock and a helpful staff to assist you with selecting the proper device for your door opener system. Stop in and visit our parts counter today and add the convenience of a keyless entry to your garage!