At Overhead Door Company of Central Jersey, we are often asked questions about how to program a garage door keypad. We like to be as helpful as we can be when a customer calls with such a question. In order for us to be helpful, the customer can take a couple of simple steps prior to contacting us.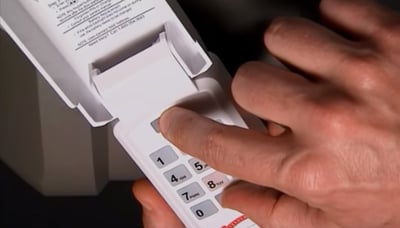 Garage Door Keypad
First, let's talk about 'keypads'. A keypad or keyless entry pad for garage doors is a convenience device that has been available in various forms for many years. The earliest devices were wired directly to the garage door pener system, required no batteries, and were fairly simple to program. These devices often worked only one garage door and there was a concern for security in that a keypad could be pulled off the wall and the wires could be jumped to access to the garage.
Suggested Page: Accessories for Garage Doors
Over time, keyless entry devices evolved into very convenient wireless devices. These newer devices are easy to install, easy to program, very secure, and, in most cases, will work multiple door systems. There is a catch though. The older hard-wired devices were universal – meaning we could attach one brand of keyless entry pad to almost any opener system. The newer wireless units are manufacturer specific. There have been several generations of these wireless devices at this point so some manufacturers have begun to offer 'backward compatible' models that will work units that have been built over a considerable number of years. Also, the wireless units require batteries. Being wireless makes installation a snap and removes the concern of removing the device to access the wires but we do recommend annual battery replacement.
How to Program Your Garage Door Keypad
Now that we've briefly described keyless entry devices and pointed out the changes over the years, it is probably evident there is no single answer to the question of how to program your keypad. What can you do to get the most assistance possible when calling for help with a programming question? The following suggestions will help you get the answers you need:

• Identify the brand and model of the garage door opener system installed in your garage
• Identify the keyless entry pad installed
• If it is a hard wired device, check to be sure the wires are undamaged and properly attached
• Check to be sure all other devices work your door system properly before calling. This is to verify that your problem is related specifically to the keyless entry pad.
• If it is a wireless battery operated device, check to be sure the keypad's battery is fresh and the contacts are clean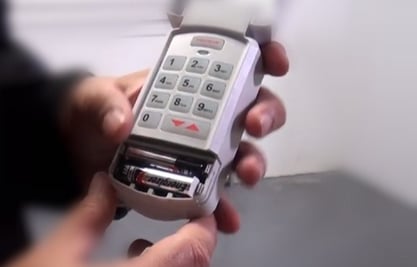 Garage Door Keypad with Fresh Batteries
With the above information you are ready to call for help. At Overhead Door Company of Central Jersey we will answer any questions we can. In many cases we may direct you to our website – we have made programming instructions for many of the most popular products available there – or to another online resource. Since the steps will vary dependent upon the brand and age of the device being programmed we recommend downloading the instructions and having them available while you are attempting the programming sequence. Be careful to follow the instructions step by step. We very often find that a step has been skipped, resulting in failure of the opener system to accept the attempted programming. Once programmed, newer wireless keyless entry devices are very convenient, very reliable and very secure.
---
How to Set Up an Overhead Door® Wireless Keypad

Compatible with many different brands, the universal keypad provides a simple and effective solution for multiple garage doors. The universal keypad can be programmed to operate a combination of up to three different garage door openers or receivers with a single PIN.
The Universal Wireless Keypad is compatible with garage door opener brands such as LiftMaster®, Chamberlain®, Genie®, Overhead Door™ brand, Wayne Dalton®, Linear®, Marantec®, and more!
Click here to download a brochure or installation instructions in English, Spanish or French.
---
Controlling & Monitoring Your Opener from Your Smartphone
While discussing the subject of the keyless operation of your automatic garage door system we would be remiss to not mention the latest technology. Today, several automatic garage door systems on the market feature smartphone compatibility. Think of this feature as a 'mobile keyless entry pad'. You can open, close and monitor your garage door from anywhere with an app on your phone.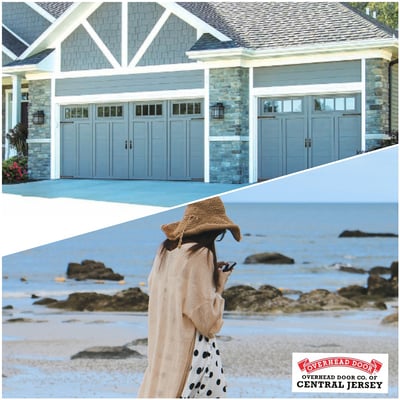 Control and monitor your garage door from anywhere with your smartphone.
✓ Know when someone is operating your garage door, opens the door for a delivery, repair person, or friend without having to provide the access password to your garage.
✓ Check if your garage door is open, or closed or if there is any change to the door position.
✓ Access the history of each of your openers. OHD Anywhere® app provides helpful security information of exactly when the door was used, including the day/time.
The OHD Anywhere® is compatible with most manufacturer and model residential garage door openers.