Are you looking for an integrated system that maximizes performance and reliability? Combine an Overhead Door® garage door opener with one of our beautiful garage doors.
We offer a wide variety of garage door openers and garage door opener accessories that further elevate the simplification of carefully crafted design and modern technology.
Each garage door opener also comes with built-in, standard functions for ultimate safety, convenience and power. Our full line of automatic garage door openers features a variety of power levels and specifications to handle different garage door weights and sizes. Powerful, quiet and durable, Overhead Door® automatic garage door openers and opener accessories are designed for performance.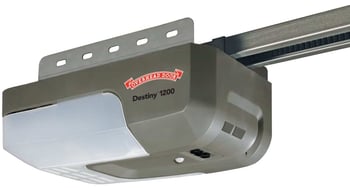 Main Components:
There are two main components to a garage door opener - the motor type and the drive type.
✓ Motor Type: DC & AC Motor Type
- DC Motor Type: Garage door openers powered by a DC motor offer the most power and are the smoothest running motors in the industry and they not only are quieter and lighter, but they allow more features on the opener like soft star and stop, which reduces wear and tear on the garage door.
- AC Motor Type: Garage door openers powered by AC motor are typically louder, larger and heavier since they require more components.
✓ Drive Type: Chain, Screw or Belt Drive Garage Door Openers
The drive type is simply the way your garage door travels along with the guide - the long rail connected to the opener and above the center of your door - when it opens and closes. Within the guide is a screw, chain, or belt which moves the trolley along the guide to open and close your garage door.
- Screw Drive Openers are the best for large garage doors, as these will give you the most power with the fastest operating speeds.
- Belt Drive Openers are some of the quietest garage door openers you can buy and are ideal for a garage that is connected to the house.
- Chain Drive Openers garage door opener use a chain to move the door to the open and close position. It is suitable for most garage doors as the design has been around for many years and will last a long time with routine maintenance.

→ Learn About Our Garage Door Opener Accessories ←

No matter what kind of garage door you own, there are many openers and accessories options available for you.
We also offer garage door opener repairs and preventive maintenance plans.
Contact Overhead Door Company of Central Jersey to learn more about these and other convenient products that we have for your garage door and garage door opener needs. Call 908-722-5785 or email us at resi@overheaddoorco.com.