Rolling Service Doors | Roll-Up Doors | Upward-Coiling Doors




Commercial & Industrial Garage Doors
We install, service, and repair insulated and non-insulated service doors, counter doors, upward coiling security grilles, fire-rated doors, parking garage coil-up doors, and rolling gate doors for commercial and industrial facilities in the Central Jersey area.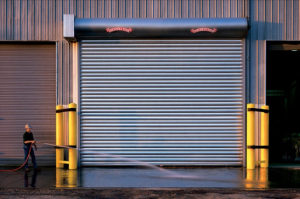 The materials that we use for our commercial and industrial roll-up doors are:
✓ Galvanized Steel
✓ Aluminum
✓ Stainless Steel
✓ Powder Coat Colors for Coiling
✓ Roll-Up Door Systems
✓ Fabric
✓ Rubber
Our rolling service door product line ensures that your project specifications will be met with ease and style. Ideal for situations where side room and headroom are at a premium, our upward-coiling service doors fit openings up to 1500 sq. ft. (139,355 sq. mm) and are available with the industry's widest array of slat profiles, curtain materials, and colors, offering a virtually endless array of options to satisfy both aesthetic considerations and working requirements.
Rolling Service Doors | Roll-Up Doors in NJ
Rolling Service Doors Options | Roll-Up Doors Options
✔ Roll-formed galvanized steel, stainless steel, or aluminum curtains in weights from 26 to 14 gauges (not all gauges available in all materials)
✔ Curved or flat slats in a range of sizes and profiles, including the C-600, a 6" (152 mm), 1 3/8" (35 mm) curved slat for heavy-duty applications
✔ Finishes include primed and painted steel, clear or colored anodized aluminum, or PowderGuard™
✔ Finish of up to 215 colors as well as color-matching to specification
✔ Face of wall mounting is standard with between-jambs mounting available for medium- and heavy-duty doors
✔ Push-up, chain-hoist, crank, or motor operation available
✔ Electric motor option with an array of radio and remote controls simplifies door operation
✔ Ventilated slats with perforations or fenestration extend applications to open-air environments
✔ Weatherstripping and/or insulated slats offer additional protection against air infiltration
✔ High-usage package and pedestrian pass doors available for special applications
Rolling Service Doors Features
✔ Galvanized steel, stainless steel, and aluminum doors in a variety of gauges, slat profiles, finishes, and options
✔ Most standard door widths up to 30'4" (9246 mm) and 28'4" (8636 mm) in height, and custom door sizes up to 1500 sq. ft. (139,355 sq. mm)
✔ Rolling service doors for heavy-duty, medium-duty and light-duty applications
✔ The Stormtite™ AP Model 627 offers commercial and industrial facility owners the most advanced thermal performance values published by any major U.S. manufacturer of insulated rolling steel doors.
✔ Coil-Away™ Model 600 door offers an economical solution for openings to 16' wide and 16' high (4877 mm and 4877 mm)
✔ Stormtite™ Models 620 and 625 insulated doors provide extra protection against the elements
✔ The majority of Overhead Door rolling doors feature solid construction to withstand wind load of 20 psf, with a higher wind load option to meet requirements
✔ Structural steel angle or roll-formed guide design ensures smooth curtain operation
✔ Steel plate brackets provide additional strength
✔ Helical torsion springs designed for 20,000 cycles, with high usage option to 100,000 cycles, higher cycles options available
✔ Each door is computer-designed to ensure precision manufacturing and facilitate installation
✔ Computer-matched door counterbalance system and optional motor operator promote precision operation and performance
We have such a wide product line of rolling service doors (also known as coiling doors and roll-up doors). Contact our experts today and request additional information on our light-duty rolling doors, heavy-duty rolling doors, advanced performance doors, and security shutters.
Benefits of Powder Coating a Rolling Steel Door
The most mentioned benefit of powder coating a rolling steel door is a highly durable finish it provides to protect the door from corrosive elements such as salt. When any object doesn't have a protective barrier against the corrosive materials it's exposed to, it can quickly cause deterioration which can have adverse side effects on operation and longevity.



Rolling Door Models:





A commercial garage door with a pass-through door (also known as a walk-through door or man door) is usually installed in applications where spaces are too limited for the installation of a standard entry door.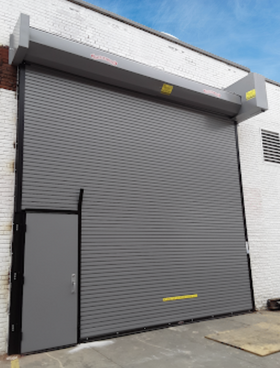 Roll-Up Door with Man Door
---
Commercial & Industrial Garage Door Repairs:
Contact Overhead Door Company of Central Jersey for all your commercial door repair troubles— we'd be happy to discuss your requirements and pricing options. We service & replace all manufacturers, brands, and models of commercial and industrial garage doors and garage door operators.
---
Preventive Maintenance Plans for Commercial & Industrial Garage Doors:
You should have your commercial overhead door serviced at least once a year if no other issues arise. It is important to have an adequate commercial and industrial door maintenance plan as it will prolong the life of your garage door while it helps you avoid costly emergency repairs and replacements.
Durability, reliability, and economy are our top priorities. Our top-quality materials and optional maintenance programs at low costs will contribute to extended door life while maintaining your productivity.