Here are seven questions to ask when considering a coiling fire-rated door, but first, a little background is in order.
What is a coiling fire door and where should they be used?
A coiling fire door is just like a regular coiling door except that it has a special release mechanism incorporated into its design that will cause or allow the door to close in the event of a fire or fire alarm. So what else do we need to know?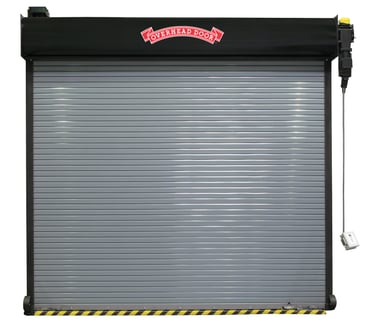 Coiling Fire Rated Door
There are a number of things that one needs to consider when making a fire door purchase.

1. What is the size of the opening?
A door that will work perfectly for a manufacturing plant application will not look good and may actually not fit on an opening at a counter in a kitchen.

2. Where is the door going to be installed?
This is critical for a number of reasons. If the door is to be used in a Kitchen, it most likely will be on a countertop as opposed to a full-height door.
3. What is the wall construction?
There are a number of ways that a firewall can be built. Not all of them will support the installation of a coiling fire door. Generally, firewalls are either masonry which could be concrete block, either hollow or solid, cast concrete, or drywall. If the wall is built using drywall, there are a number of concerns that need to be addressed. How many layers of drywall? Is the wall built on metal studs or wood studs? If the wall is of metal stud construction the framing in the wall at the opening needs to be addressed. Fire doors need to have something very substantial to attach to. Many metal stud walls are framed using 20 gauge studs that have many holes in them to facilitate the passage of pipes or wires. This is not allowed at the actual door opening. There we must have a wall that meets UL-approved construction for the mounting of a fire door. Usually, this means 14 gauge channels, wood 2x material or structural steel.
4. What material should my fire door be made out of?
Fire-rated doors come in two basic materials, Steel and Stainless Steel. Steel doors are generally painted and are used in the majority of applications. Stainless Steel doors can be made in several finishes including; mill, and two levels of bright polish, #2B and #4. If the door is to be installed in an area that is subject to high humidity or perhaps a mildly corrosive atmosphere, stainless is a good choice. Also if you are looking to have a door that simply looks really nice, stainless can fit that bill. Plain steel doors can also be powder coated.
5. Will the door be open except when needed as a fire door? Or will the door be cycled daily or perhaps continuously?
Facility usage requirements vary depending on the placement of the fire door. If the fire door is exterior mounted at a loading dock application, a higher usage plan must be considered. Speak to our product specialist to learn the options available.
6. How do you plan to operate the door?
If the door is to be left open except when needed, a simple hoist or crank could suffice, a counter shutter might even be push-up. If you intend to operate the door frequently, then a motor operator is in order.
7. What will trigger the door to close?
At a minimum fire, these fire-rated roll-up doors are controlled by means of a fusible link. Heat melts the solder holding two halves together allowing the mechanism to release the tension holding the door open. Beyond the fusible link, we have available a number or electric and electronic release devices. These can be as simple as a magnetic catch triggered by the fire alarm panel. The electronic release mechanisms can also be incorporated into the electric motor to signal the door to close on the alarm. The benefit of this type of system is that the door can be closed when there is an alarm in an area of the building remote from the door. The fusible link requires that the fire is at the opening.
The commercial product specialists of Overhead Door Company of Central Jersey are available to help you purchase the right rolling fire-rated door system for your facility. Call our team to schedule a site assessment in New Jersey.
Suggested article: What is a Fire Door Drop Test & Annual Inspection?