Coiling Doors | Roll Up Doors
Commercial & Industrial Overhead Doors
Roll Up Doors, also known as Coiling Doors, provide excellent security for your building. They also eliminate many of the service issues that can arise from a conventional sectional door. There are no cables to fray, no hinges to lose or rollers to wear out.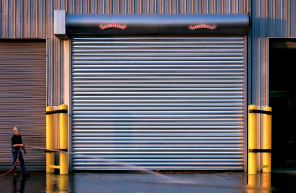 Coiling Door | Roll-Up Door
Roll up doors come in a variety of slat shapes and materials and finishes. Roll up doors can be insulated doors, they can also be fire rated doors and they are exceptionally strong.
Security Grilles
With Overhead Door Corporation, you can rest assured in knowing that your roll up service door is going to be built to last. Our doors are built from galvanized steel, stainless steel or aluminum and are available in a variety of gauges, slat profiles and finishes, so regardless of your business needs, we can install the perfect product for you.
But it's not just the top of the line light, medium and heavy-duty roll up doors that make us the best commercial service door dealer, installer and service company in our area. We also feature roll up door products that provide commercial and industrial facility owners with the most advanced thermal performance values by any major insulated roll up door manufacturer in the United States. So regardless of weather, your businesses products, materials and employees will be protected against whatever Mother Nature throws your way.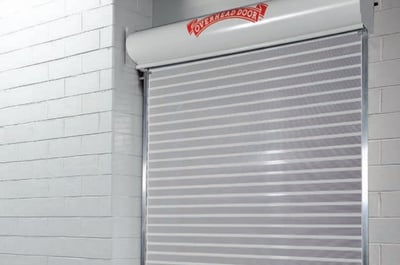 Upward Coiling Security Grille 674
With features such as computer matched counterbalancing systems, helical torsion springs designed for a minimum of 20,000 cycles or more, and sturdy structural steel guides and brackets, your service doors will be secure, safe and stylish. Give Overhead Door Company of Central Jersey a call today or stop by and visit our showroom and see for yourself why we are the premier roll up steel door supplier, installer and service company in the entire Central Jersey area.
Security grilles are available in many styles and finishes. They can be open, or have aluminum panels or polycarbonate inserts. They can roll up or slide to the side. Motorized operation is available on most.