A commercial garage door with a pass-through door (also known as a walk-through door or man door) is usually installed in applications where spaces are too limited for the installation of a standard entry door.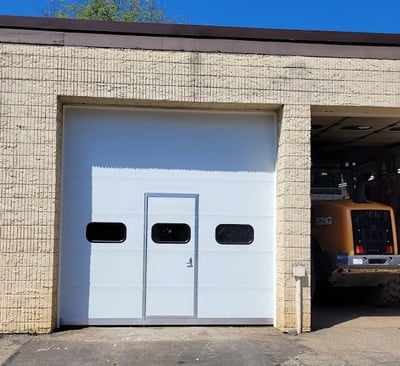 Sectional Door with Pass-Through Door Installed in New Jersey
Benefits of Installing a Commercial Garage Door with a Pass-Through Door:
These are some of the many benefits that commercial garage doors with pass-through doors offer:
✓ The staff can easily enter or exit the garage through the pass-through door in the event of a power breakdown, or if the commercial door breaks down.
✓ They are convenient to access your business without having to open the garage doors every time a person needs to come in or go out.
✓ Having a pass-through door installed within your garage door will conserve heat in the winter as you will be only opening a small door for less amount of time.
✓ By allowing building access through a smaller opening versus the entire commercial garage door, the building reduces energy costs.
✓ These doors solve many pedestrian and privacy traffic issues.
✓ You can apply to your commercial garage door with a man door security features to ensure not only your safety but others as well at all times.
✓ This minimizes wear and tear on the door and saves electric operator cycles, as well as the garage door springs, as these will be used with less frequency.

Selling and Installing Sectional Doors, and Roll-Up Doors with Pass-Through Doors
At Overhead Door Company of Central Jersey, we sell and install sectional doors with man doors, and roll-up doors with man doors (pass-through doors).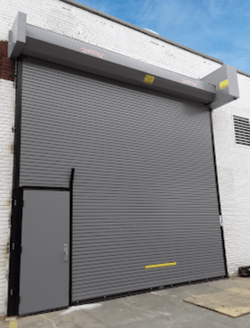 Roll-Up Door with Man Door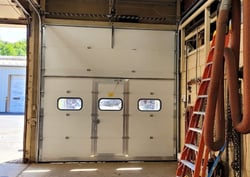 Sectional Door with Man Door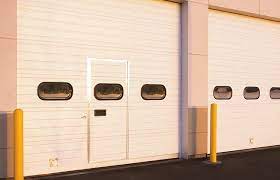 Sectional Door with Man Door
If you're considering adding a sectional garage door or a rolling door with a pass-through door (man door), contact us. Our experts will be able to help you find the best option for your facility.
Call 908-722-5785 or email at commercial@overheaddoorco.com. We've been serving the Central Jersey area for 50+ years. It will be a pleasure to assist you!
Tags: pass door in rolldown gate, pedestrian exit in coiling overhead door, pedestrian entrance in rollup gate, wicket door in rolling door, commercial door with pass-through door, commercial door with man door, commercial garage door with pass door.