Rolling Counter Doors, Roll Up Counter Doors, Counter Shutters
Rolling Counter Doors, also known as Roll Up Counter Doors and Counter Shutters, serve many purposes including Ticket Counters, Cloak Rooms, Kitchen Service Counters, Bar or Electronics Concealment and many other uses. At Overhead Door Company of Central Jersey, you can be assured that we will provide the optimal products for your particular needs.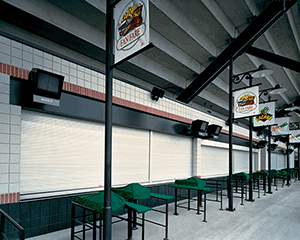 We have Counter Doors in Aluminum, Steel, Stainless Steel, Wood and Plastic.
We also have Counter Shutters that allow light and air to pass through, doors for pool cabanas and doors for the boardroom. Counter shutters can be painted, powder coated, anodized or stained, depending upon your needs and the materials chosen.
Counter Shutters can be mounted to the face of the wall or in the wall, and certain counter shutters can be built with an integral frame and sill.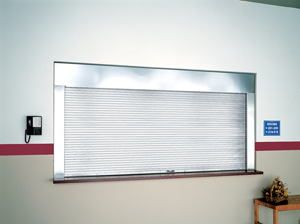 We have counter shutters with UL Fire to protect your valuables and your building. Fire rated shutters are available in Galvanized steel, Powder coated steel and Stainless Steel. Fire rated shutters are also available with integral frames and fire rated countertops.
Call us today and let us help your business be stylish, successful and secure with one of our many fine commercial, retail or industrial rolling counter doors.