Parking garages require secure closure solutions that can stand up to frequent cycles. The installation of high-performance security grilles can benefit residential buildings, office buildings, professional facilities, hospitals, airports, and other applications. Some of the critical aspects of a successful parking operation are maintaining traffic, security, control, and efficiency.
Use a high-speed, high-performance security grille in a parking application where:
- You want visibility and airflow.
- Opening and closing speed is crucial.
- Security is needed round the clock.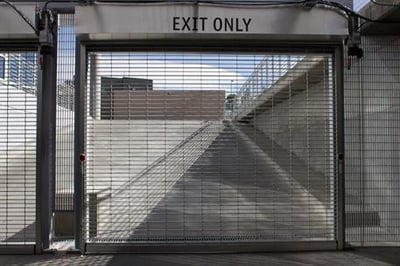 High-Performance Security Grilles for Parking Garage Applications


Benefits of Installing a High-Performance Security Grille
✓ By installing a high-performance, high-speed security grille reduces the risk of tailgating and piggybacking activities or unauthorized individuals accessing the facility and provide optimal traffic flow.
✓ Open-air model grilles provide security while allowing full visual access and air circulation.
✓ Some high-performance security grilles operate up to 3 times faster than standard overhead coiling grilles with speeds of up to 24" per second and closes at 12" per second.

✓ Some of our security grille models require practically no maintenance other than routine checks and no replacement parts.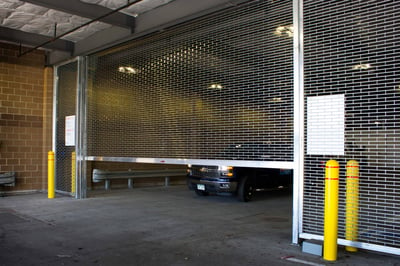 High-Performance Security Grilles for Parking Garage Applications
High performance, maintenance-free, high speeds, advanced safety features, and easy operation and setup show why our security gates are a high-demand product in parking garages, residential buildings, airports, malls, transportation hubs, and any high traffic entrance with security grille needs.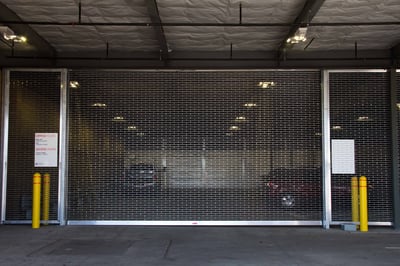 High-Performance Security Grilles for Parking Garage Applications
→ Learn More: Security Grilles ←
---
Insulated Parking Garage Doors
If resident comfort plays an important role, you may want to install an insulated parking garage door to help regulate the temperature in the parking structure, especially in a colder climate. Other times, overnight security is paramount and you need a door that will only cycle once per day but is extremely secure.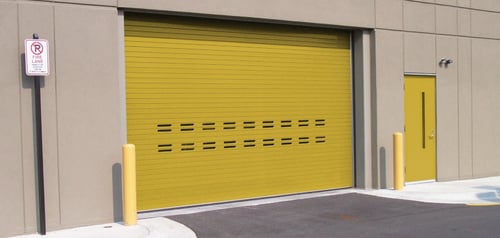 Insulated High-Performance Parking Garage Roll-Up Door
Overhead Door Company of Central Jersey has the solutions you need for secure, safe, and durable closures with our High-Performance Parking Garage Doors.
Our trained personnel will be more than happy to assist you with your facilities' needs. Call 908-722-5785 or email us at comm@overheaddoorco.com. We've been serving customers in Central Jersey for over 47 years.
Contact our experienced Support Team for help in customizing our products to fit your specific application.