At Overhead Door Co. of Central Jersey, we are often asked 'which is better – a sectional garage door or a rolling steel coiling garage door? The answer is something like 'it depends'. Depends on what? The intended use, site conditions, particular requirements such as the need for windows or higher security, and so on.
To make the best selection when looking for access systems involve a professional garage door dealer such as Overhead Door Co. of Central Jersey early in the design process. We are always here to assist in choosing the right product for the right application. What are some of the advantages and disadvantages of each type of door system?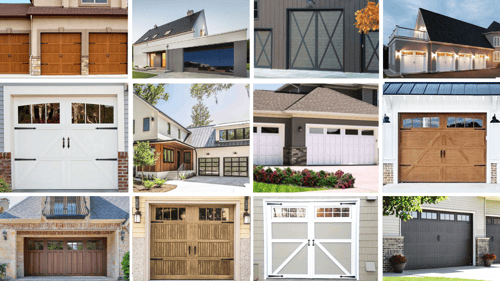 Sectional Garage Doors for Your Home
- The sectional overhead doors offer a wide variety of designs, window options, and colors, among other things.
- The track assembly the door travels on can be designed for many different headroom conditions such as very low clearances, standard clearances, high ceiling lift clearance to elevate the track to a higher ceiling, or full vertical to keep the door close to the wall even when open if the wall structure is high enough to accommodate this.
- Sectional doors can be simple hollow metal doors for cold storage areas or highly insulated for climate-controlled areas.
- These garage doors can be manually operated or highly automated as needed.
- They are reliable, relatively quiet, and easily repaired in most cases.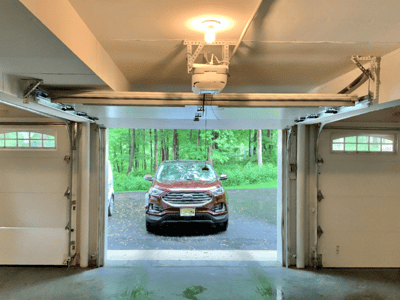 Sectional Garage with Opener Door from Inside
In some cases, the fact that a track must be installed either above the area where the door opens or against the wall in the case of full vertical installations may not be acceptable or desirable. Rolling doors do not require this space to operate so may be more appropriate in certain applications.
Learn about our garage door openers
Roll-Up Garage Doors for Your Home
Rolling doors are very durable and offer excellent reliability.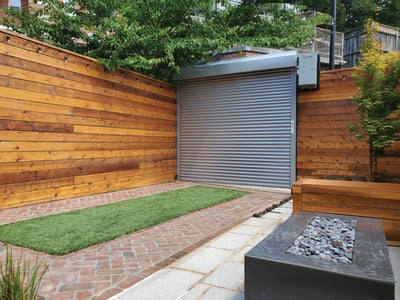 Allura® Residential Exterior Shutter
- These can be solid slats or 'grill' style doors (the solid slat roll-up doors can be insulated).
- These products are available in a wide variety of materials and finishes.
- Rolling doors do not require an exposed counterbalance and tracking above the coil so resulting in a clear wall above the installation.
- These products will typically not offer the degree of insulation available in a sectional product so may not be most appropriate where climate control is a primary goal.
- Models are available with accelerated operating speeds and with 'springless' options providing the highest cycle life ratings available.
- As with sectional doors, these products can range from manual to highly automated.
There is no one answer for what product is 'better'. The more appropriate question might be 'which product best suits my needs. Just like a high-end two-seat sports car and a used sedan will both get you downtown but the two-seat car is not appropriate for a family, the wrong door for the wrong application may be ineffective. This could result in reduced convenience and safety, shorter service life, and end-user disappointment.
At Overhead Door Co. of Central Jersey, our product experts are always here to assist with the selection process. Contact us today at 908-722-5785 or find us on the web at www.OverheadDoorCo.com.
Overhead Door Co. of Central Jersey has been providing quality garage door products and services to the Central Jersey market for over fifty years and our experts take pride in assisting our customers with the best possible solutions to their access system requirements.