Residential garage door openers – how long have they been made? How have they changed? The idea of an automated opener system rapidly followed the introduction of the overhead door.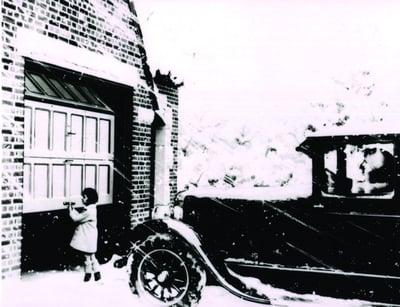 According to our best sources of garage door history, the first electric automated garage door opener was invented by Mr. C. G. Johnson in 1926. Mr. Johnson also brought us the first overhead garage doors in 1921. As the inventor, Mr. Johnson founded Overhead Door Corporation which continues to be an industry leader today, almost 100 years after the introduction of his first garage door.
Early garage door openers only offered the most basic of functions – lifting and closing the garage door. Over the years many variations have been developed. Today there are several types of opener systems commonly available. These include chain drive, belt drive, screw drive and jackshaft units. The type of unit most of us might be familiar with is the drawbar or trolley type. This is the most popular for use in residential applications and features a power unit housing the motor and control devices. This power unit is attached to a track, or boom, that includes a chain, belt, or screw that moves a trolley that connects to the top of the door with an arm or a bar most often referred to as a drawbar. The jackshaft unit might be a bit more obscure to most customers. This unit is appropriate for use only on door systems that use a torsion spring counterbalance (more on springs in an upcoming post). These side-mounted jackshaft units attach to the torsion spring counterbalance shaft and move the door by turning this shaft rather than pulling or drawing the door up a boom as described earlier.
What changes have there been over the years? How have convenience and safety been improved? As mentioned above the earliest units only performed the most basic of functions – opening and closing the door – from within the garage. This meant still having to get out of the vehicle, entering the garage and activating the unit. Hmmm…..sure would be nice to have a way to open the door from the car, right? In the early days, this meant running a wire to a remote location and mounting a pushbutton or key-activated switch along the driveway. Then the driver could roll in, open the window, reach out, and open the door. This was a major improvement, but quite a lot of work to install such a device. It would be nice to have a courtesy light, a way to easily operate the unit from inside the vehicle, and maybe some other added convenience features, wouldn't it? Well, we are in luck!
Remote Controls, Keypads & Smart Garage Door Openers
We are unclear on the exact timeline regarding the introduction of the remote radio control transmitter but all our information points to the mid-nineteen forties. The addition of the remote control made the automatic operation of the garage door a true convenience.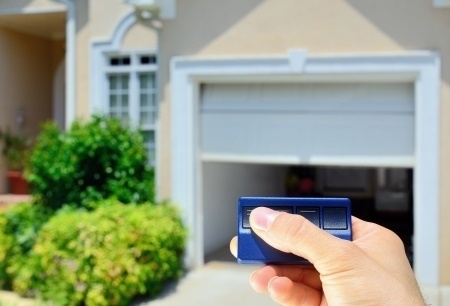 Garage Door Opener Remote Control
As with everything electronic radio controls started out large and expensive and over time have been reduced to the extremely convenient size and low cost we are familiar with today. Remote radio control operation options now include exterior-mounted wireless digital keyless entry pads.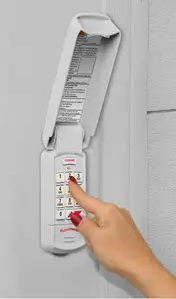 Garage Door Keypad
In addition to the remote radio control select units are offered with 'Wi-Fi' connectivity so the position of your door can be monitored from anywhere via the internet. With these units, the door can even be remotely operated via the internet.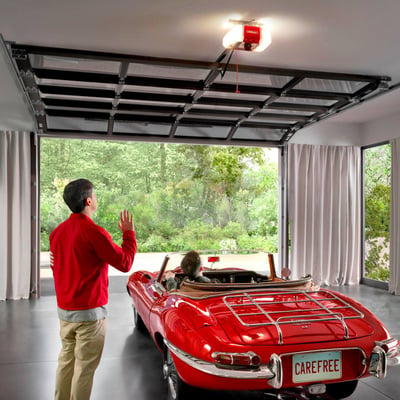 Smart Garage Door Opener with Camera and Wifi Connection
Interior controls have advanced from simple 'doorbell' type pushbuttons to multi-function wall consoles with many features. These features include being able to operate the courtesy light without opening the door, locking out the radio controls when leaving for an extended time, motion sensor activation for the courtesy light and in some cases floor level remote control programming and time and temperature displays.
In another giant step forward certain models are offered with a direct current motor and a battery backup feature so the unit will continue to work even in a power outage. How convenient to be able to leave or return to the garage without having to disconnect the door from the opener system and lift it manually!
Garage Door Opener Safety Features
Finally, we would be remiss if we did not mention how the safety of an automatic garage door opener has improved over the years. The earliest units did not have any safety features; they simply ran until reaching a travel limit switch and shutting off.
Today's residential opener systems all include a speed sensor that reverses the door to fully open if it touches an obstruction, a photocell non-contact device that reverses the door to fully open if a beam of light projected across the bottom of the door opening is broken and a maximum run timer that will shut down the opener system if it does not reach the close travel limit within a specified time.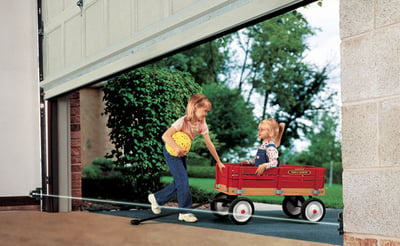 Garage Door with Photo Eyes
In conclusion, an item that started out almost as a novelty is now almost considered a necessity. Today's garage door's opener systems are quieter, safer, more reliable and more affordable than ever.
Suggested article: Garage Door Opener Buyer's Guide
If you have been living with an opener system that is old, noisy or unreliable or if you've never had an opener system, why not stop in or call today to learn more? Overhead Door Co. of Central Jersey is here to assist with selecting the right automatic garage door opener system for your needs.