High-quality garage doors can provide decades of reliable service if they are maintained properly. The average garage door cycles up and down more than 1,000 times a year -- that's a lot of service! When you realize that garage doors are heavy, complex systems with many moving parts and large springs that develop potentially lethal forces, you understand how important the monthly inspections and the annual preventive maintenance for your garage door are to your investment and to your safety.
Annual preventive maintenance for your garage door is necessary, and if you have reasonable DIY skills, you can do most of the work yourself. If you prefer, you can bring in a certified garage door technician to return your door to peak operating efficiency. A great time to check your garage doors is before the weather turns warm or at the end of the summer season.
→ Suggested Lecture: "Summer Home and Garage Door Maintenance Checklist"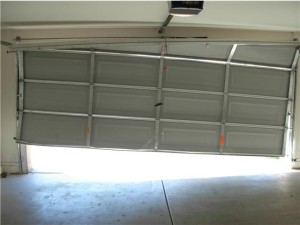 You'll need a few tools and supplies to maintain your door:
- Locking pliers
- Socket wrench set
- Flat-bladed screwdriver
- Pliers
- Old toothbrush
- Lithium grease
- Silicone spray/WD-40
Steps to Maintain Your Door:
1. Secure Your Garage Door: Safety first. Secure the garage door by unplugging the opener. When working with a garage door opener, immobilize it with a pair of locking pliers clamped onto the roller tracks. Your garage door is under extreme spring tension, do not remove a lift cable. Never release the tension in the overhead torsion spring -- call in a professional if needed for this task, as if gone wrong, it could be lethal.

2. Tighten Hardware: Use your socket wrench to check the tightness and if necessary tighten the rail bracket bolts and the roller brackets.

3. Inspect Rollers: Rollers made of nylon can chip and break. Steel rollers can deform or dent. You can replace worn rollers in your garage door as needed, but do not remove the bottom roller bracket, as the cable is under extreme spring tension.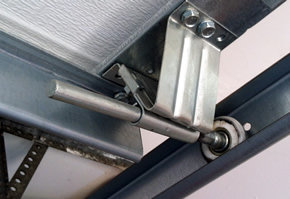 Garage Door Roller in Track
4. Check the Lift Cable: The garage door cable should be free of wear and broken strands. Pay the closest attention to the cable attachment point at the bottom roller bracket. Use a toothbrush to remove dirt and residue. If you see any damage, call in a professional.





5. Lubricate Opener Hardware: The garage door opener uses a screw, chain, or belt to lift and lower the door. Lubricate the screw with spray-on white lithium grease. Do not over do it. Check your owner's manual to see if your screw opener doesn't need lubrication. The chains used are generally lubricated for life and the belt obviously needs no lubrication.

6. Lubricate the Springs: Apply WD-40 or a very light coating of oil to the torsion springs to prevent corrosion. Allow any excess spray to remain in place. Extension springs do not need to be lubricated. Note that metal fatigue will eventually defeat any spring. If a spring breaks, hire a pro to replace it.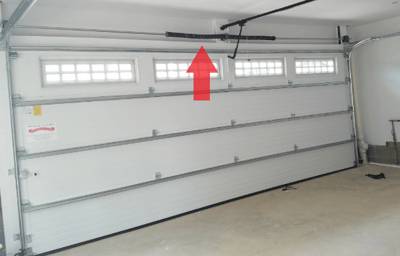 Torsion Springs

7. Lubricate the Garage Door: A very small amount of lubrication goes a long way. What do you need to lubricate the door itself? There are only a few things really, the point where the roller shaft goes into the bearings, the hinges where they bend, and the bearings on the pulleys of an extension spring balanced door. Do not over do it.

8. Replace the Garage Door Bottom Seal: The hollow-rubber weather seal at a steel door's bottom is the "U-shaped astragal". It is subject to wear from weather and rodents. Open the channel ends with a flat-blade screwdriver and remove a worn seal, spray silicone lubricant on the channels and then install a new seal. Use your pliers to crimp both channel ends. Or install a complete, new astragal and retainer. On wood doors you'll need to pull out some roofing nails and carefully nail on a new garage door seal.
9. Side and Top Weather Strip: Most doors installed in the last 20 years have either wood or vinyl stops at the sides and top, usually with a vinyl flap to seal out wind. This garage door weather strip can wear out over time. You'll need a hammer and color-match nails to replace this!

10. Test the Door: Close the garage door and with the automatic opener still turned off and disconnected from the door, lift the door up. It should open in a smooth and balanced way -- if not, contact a technician. Plug in the opener and test the reversing mechanism by placing a wooden obstacle, such as a 2-inch high block in the center of the opening, below the door. This will test the inherent pressure sensing system in the opener. If the door does not reverse, then you should call for service as your door is unsafe. The photoelectric-eye or edge sensor should stop the door from closing and reverse its motion. Clean the lens of the photo-eye if necessary.
→ Suggested Read: "Reset Your Garage Door Opener Emergency Release Cord"


11. Improve Door Safety: If you have an old garage door without safety features, contact your Overhead Door distributor to upgrade or replace your automatic garage door opener.

1. Photoelectric eyes have been required since 1993, so if you have an antique opener without this important safety feature, you need to seriously consider installing a new opener system. Older pre-1993 units can no longer be supported or repaired. Also if you go to sell your home the Home Inspector will most likely fail you for this, so you might as well enjoy a new garage door opener now.
2. Using a screw gun, you can install lift handles on each side of the door, making sure they clear the top of the doorframe. This is important so that if you have to operate your door manually you will be less likely to get your fingers pinched.
3. If your extension-spring-type door lacks a containment cable -- to prevent spring/cable whiplash should they break -- you can buy a containment cable and install it yourself (or hire a professional). Secure the cable to the bracket with a bolt at the front of the upper rail, and then feed the cable through the extension spring. Bolt the free end to the upper support bracket by looping the cable around the bolt and then tightening a fender washer with a locknut.
Annual maintenance and monthly inspections will keep your garage door operating in excellent condition for many years. You'll also have the peace of mind that comes with knowing your door is working well.
If you have any questions or would like to schedule a garage door service in New Jersey, please contact us at 908-722-5785 or email at resi@overheaddoorco.com. It would be a pleasure to assist you.