We live in an extremely automated world. And we have come to expect everything to work flawlessly. But what happens when you are ready to leave your garage and the automatic garage door opener fails? Are you familiar with the emergency release device on your opener system? Have you tried to use it so you could get out if you need to?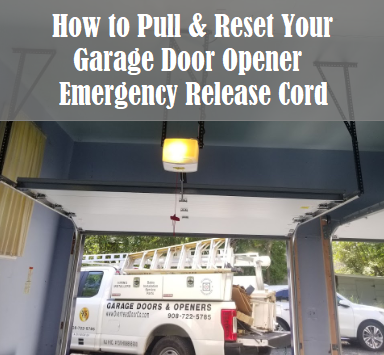 An automatic garage door opener system can fail to operate due to power failure or equipment failure. What would you do if your opener does not work when you push the button? At Overhead Door Co. of Central Jersey rarely a day goes by that we don't receive a call asking about how to open a garage door that is attached to a non-functioning opener system. We do our best to describe the process to our callers, but the procedure is somewhat different for various brands and models that have been produced over the years. While we are here to assist in these situations it is difficult at times to provide clear instructions to someone that is mostly unfamiliar with the process.
So, how do you disconnect the opener system and open the door manually? Simply stated, look for the red cord near the top section of the garage door; give it a tug, then lift the door manually. That's pretty much it – except – some of the disconnect systems are spring loaded so they will automatically reconnect. These units may require a bit of a 'special' tug to be sure they remain disengaged. Some pull straight down, some need to be pulled backward, etc. Sometimes the door or the bar attached to the opener must be moved a bit to keep it from automatically re-engaging. The process is not difficult, but if you've never done it before and you are running late it can be frustrating. And disconnecting is only half of the equation. When power is restored or the unit is repaired, you will need to reengage the system.
How can we make it easier for our customers to react to power or equipment failure? At Overhead Door Co. of Central Jersey we always recommend visiting the internet. Check manufacturer websites or you tube to see instructional videos on how to disengage and reengage your particular opener system. Below is a typical instruction manual page describing the disconnect system. You will most probably notice the instructions are not very detailed.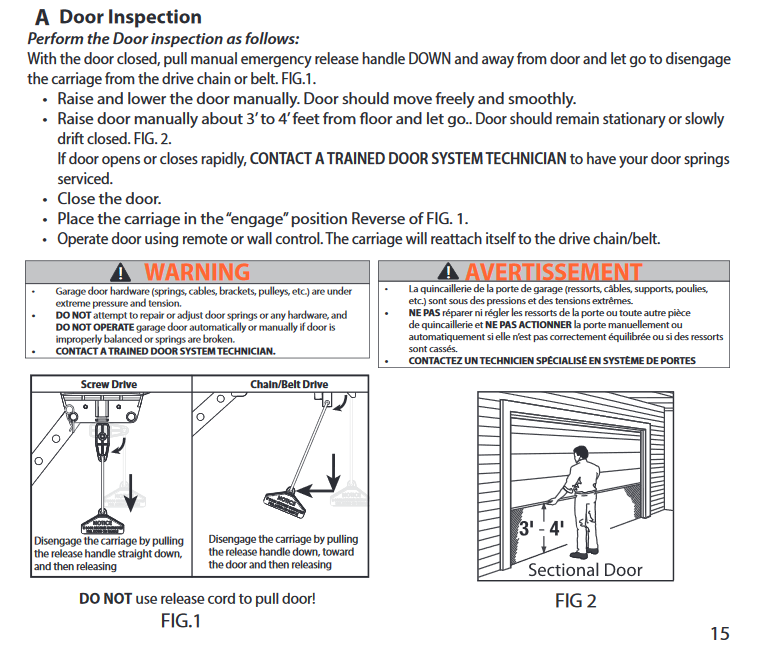 Here is a link to a you tube instructional video to disengage and reengage garage door opener systems.
You will see this video covers three separate units, each with a bit of a difference in the process. This is why we always recommend becoming familiar with your specific unit PRIOR to the day you need to use this feature. Our staff is always happy to assist with questions regarding your garage door and opener system. We encourage you to take a look at your opener system to become comfortable with the disconnect feature before you need it. Doing so also allows you to be sure the door is working properly. Should the door be difficult to operate, you may want to schedule a service call for general maintenance to prevent equipment failure and unnecessary wear and tear on the door and opener system.
Should you have questions about your garage door and opener system, collect as much information as possible regarding brand and model, then give us a call. We will do our best to address any concern you might have. Overhead Door Co. of Central Jersey is conveniently located at 952 Route 202 South and River Road, Branchburg, NJ.
We can be reached at 908-722-5785 and we are on the web at www.OverheadDoorCo.com.