Whether you call it a clicker, a genie, a remote, a transmitter, a button or something else it is very frustrating when your automatic garage door remote stop working. There are a number of reasons a transmitter might not activate the automatic garage door opener.

Why Did My Garage Door Remote Stop Working?
These are the most common reasons why your garage door remote stopped working:
1. Dead Battery. The first and simplest reason is a dead battery. When replacing the battery always be careful to select the correct replacement – there are several types of batteries that look quite alike but are not – and be sure the new battery is fully charged. Yes, check your brand new battery! It is not uncommon for us to have a customer visit our parts counter indicating they have just changed the battery and the device still won't work – and we check only to find a weak battery!
2. Physical Damage. Physical damage is generally obvious but may be concealed if something might have been spilled on the unit or if it had gotten wet, etc.
3. Programming Problems. Programming problems most often occur when folks add devices to their garage door opener and inadvertently 'un-program' a device in the process. Occasionally a device will simply drop from the receiver memory but this is relatively rare. A homeowner can follow the programming sequence outlined in the instructions for their unit and see if this resolves the problem. If instructions are not available appropriate information might be found on our website at this link:
→ Suggested Read: Garage Door Openers Programming Instructions ←
4. Failure of the Receiver Portion of the System. If the transmitter fails to operate the system after these checks have been completed it is likely the receiver is not working properly. This is typically a circuit board mounted in the motor portion of the automatic garage door opener and is best serviced by a trained technician. Reasons for failure of this part most typically include lightning strikes or power surges.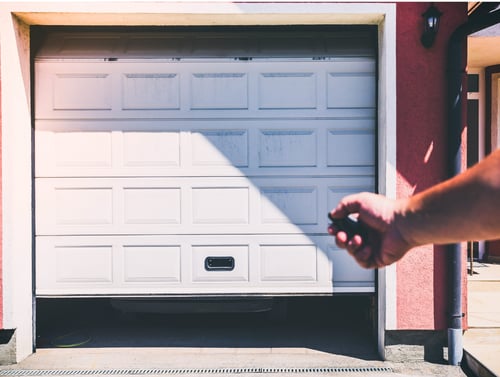 → Suggested Read: My Garage Door's Remote Control Is Not Working, Now What? ←
If you find yourself with a transmitter or remote control that fails to work your door opener system Overhead Door Co. of Central Jersey can carries a broad selection of original manufacturer replacement devices. These include units that are compatible with Overhead Door Corporation, Genie, Liftmaster, Chamberlain, Sears, Marantec and many more.
Get a new garage door remote: You can purchase it directly at our part's counter (click here for gps directions), or make your purchase via phone call at 908-722-5785 and we can ship your new garage door remote to your home.
Don't put up with the inconvenience of a remote control that works sporadically or not at all. Stop in or call today. We can assist either at our parts counter or by scheduling a convenient service call to resolve the problem.