When a garage door's remote control suddenly stops working, chances are good that you just need to replace the remote's batteries. However, sometimes the problem lies elsewhere. If the door moves just a little before stopping and reversing, batteries are not at fault.
Diagnose Your Garage's Remote Control Problem
If fresh batteries don't fix the problem, use the wall control to open the door. You might discover that its vacation lock is set, or that the door is physically locked or blocked. Disengage the door opener using the handy pull-cord and try moving the door by hand. If it refuses to budge, it might have a broken spring. Lack of lubrication can be a problem, as can high humidity or salty environments.


Garage Door Broken Spring (Left Image)
If you can't move the door, contact us. Do not attempt to service the springs yourself -- they might be under extreme tension that can cause injury or death if suddenly released.


Photo-Sensors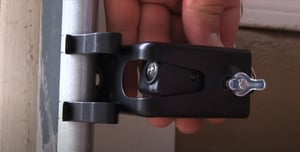 If you push the remote and the door starts closing before quickly reversing direction, see if the same thing happens with the wall control. If it does, it might mean that the door's safety mechanisms are not working properly. The first item to check is the photo-sensor system at the base of the garage door opening. This is an electric eye that must be aligned properly for the door to move. If misaligned, the system assumes that an obstruction lies in the door's path and quickly reverses the closing motion. Most photo-sensor systems have some sort of display or lights that tell you when it is properly aligned. Check your user's manual on how to diagnose and fix this problem. If the system doesn't display the proper indications, call Overhead Door Co. of Central Jersey right away.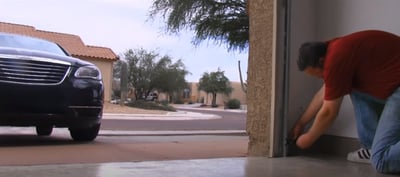 Good Batteries, Bad Remote
If you get absolutely no response from the remote control, change the batteries and see if that fixes the problem. If you happen to own a battery tester, verify the existing and new batteries are charged.
If fresh batteries don't work but the wall-mounted control operates properly, there might be a problem with the remote unit. Like any electronic component, a portable opener has circuitry that can go haywire, especially if it's old or has been exposed to water.
Next, inspect the battery contacts for corrosion. If you see any, grab a pencil with an eraser and try cleaning up the contracts.
Still no luck? Perhaps the programming got messed up. This can happen if you add a new remote unit, change the wall unit or reprogram the wall unit's keypad. If you have too many codes, you might overwhelm the opener's programming and have to reprogram it. Try reprogramming your garage remote, as per the user's manual.
If this doesn't do the trick, your remote might have a bad switch, and you'll need to replace the unit. Call 908-722-5785 to get your new garage remote control.
Rely on an Expert
If you can't get that darned remote to work, call Overhead Door Company of Central Jersey and speak with one of our specialist. We will walk you through different tests and possible remedies.
Our experts have seen it all, and if your remote can be salvaged, they should be able to figure out a successful fix. We can also send a technician to your home to inspect your door, its safety systems and your remote controls.
While there, the technician will take care of any other problems and ensure your door and openers are in tip-top shape.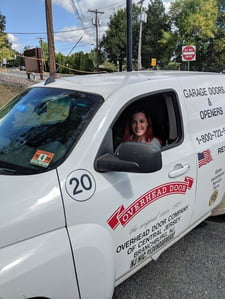 Use A Garage Door Professional To Diagnose Your Problem