Traditional Wood Garage Doors




Residential Garage Doors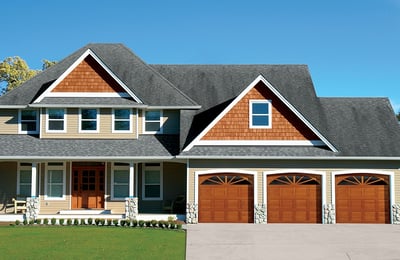 Traditional Wood Residential Garage Doors
The wood garage doors in the Traditional Wood Collection are available in either rail-and-stile or flush designs. These wood garage doors complement many architectural styles, from traditional to modern and adds timeless elegance and dramatic curb appeal to the home. This new collection of traditional wood garage doors offers homeowners a beautiful wood garage door at an affordable price. From the classic rail-and-stile garage door to the sleek flush panel, homeowners will be able to find just the right door to accentuate and complement their home's unique style.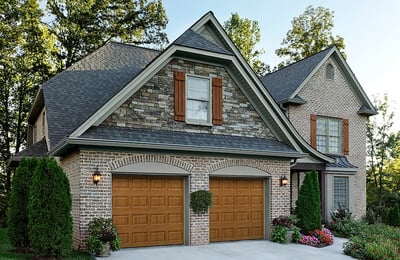 Traditional Wood Residential Doors
Traditional Wood Garage Door Designs:

These are just some of the available garage door designs for our traditional wood garage doors:
1. Rail & Stile Garage Door Panels​​

The Traditional Wood Collection Rail & Stile wood garage doors feature framed panel designs for those homeowners looking to add the natural and timeless look of a wood garage door. The 450 model garage door is constructed of smooth hardboard panels with thin rails & stiles overlaid. Homeowners can customize this door model with the addition of window trim designs.Rail and stile wood garage doors deliver timeless elegance. The traditional look of rail and stile wood doors adds richness, depth and lasting design. Available in both framed and raised panel designs; homeowners can choose a style that best complements the architectural design of their homes' façade. ​
2. Flush Garage Door Panels
The Traditional Wood Collection Flush Panel wood garage doors offer smooth full panel designs to complement the architecture of many styles of homes. The Model 444 garage door features paint-grade smooth plywood exterior and interior. These doors come natural and unfinished, however you can select an option to receive primed. Homeowners can further customize with the addition of window trim designs. Flush panel wood garage doors offer modern simplicity. The smoothness of the flush panel design suits a variety of architectural styles, from traditional to modern. For a contemporary or minimalist look, the flush panel garage doors are an ideal fit.
→ Suggested Page: Beautiful Decorative Hardware for Garage Doors ←

→ Suggested Page: Garage Door Windows Styles ←


Click here to read our BROCHURE or visit our SHOWROOM.
Traditional Wood Garage Doors Photo Gallery:


OTHER RESIDENTIAL GARAGE DOORS:

Carriage House
Residential Garage Doors
Traditional Wood
Residential Garage Doors

Fiberglass Collection®




Residential Garage Doors

Courtyard Collection®
Insulated, Steel Garage Doors


Signature® Collection
Wood Garage Doors


Impression Steel
Residential Garage Doors


Envy™ Collection
Modern Residential Garage Doors


Wind Load Resistant
Residential Garage Doors


Durafirm Collection®
Vinyl Garage Doors