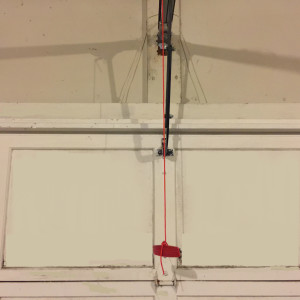 The Ever-Present Garage Door Release Cord

If you have a modern unit, it might be designed to automatically reconnect with the garage door by pressing the open button. If this is the case, you're done. But if not, you'll need to take further action.
Procedure to Reattach the Garage Door Release Cord
Step 1: First, you need to check the release handle and ensure that it is still on the door track. If not, adjust it accordingly.
Step 2: Upon close inspection, you'll notice that when you pull back on the cord, you activate a lever that moves up and down. You will have to move the cord such that the lever re-attaches to the electric door opener. You should see and hear it click into place.
Step 3: The final step is to test the door by pushing the opener button. If the garage door opens and closes normally, then you have succeeded. If the door doesn't work, go back and recheck the connection. If it's not attached, try pulling the cord in the opposite direction and then push the button again. Do not exert too much-pulling action on the cord, because you might damage it or the lever. After you relocate the lever to the opposite position, try the push-button again. You should also test it with the remote control you keep in your car.
This should fix the problem. Reference the opener's instruction manual for troubleshooting suggestions, and if necessary, call your Overhead Door dealership and arrange for a technician to check the door and opener.
---
Safety Comes First - Garage Door Preventive Maintenance Plans
Door safety should always be a paramount concern. You can address this by doing a garage door preventive maintenance at least once a year. It's good to have your overhead door certified technician come to visit once a year to perform a professional inspection.
Our technicians are trained to test and, if necessary, adjust the garage door springs, a task you should never perform yourself unless you have the right training.
The technician ensures that all the components are working correctly, all connections are tight and all moving parts are properly lubricated. Always have the technician test the release cord and then reinstall it.
Hopefully, you'll never have a need to use the garage door release cord, but in an emergency, you want to be confident that you know how to properly use it.