Should I paint my garage door? It's an age-old question that doesn't really have a good answer. According to Jim Norman of Overhead Door Company of Central Jersey, "Whether it's steel or wood, a garage door can be vastly improved with a simple coat of high-quality paint, however, it's important to match the paint to the product. There are many garage doors that use vinyl or other plastics as part of their construction and the improper paint can do more harm than good". While some garage doors can be painted, other garage door materials may not benefit, even from a good paint job.
Tips for Painting Your Garage Door:
Use the following tips for painting a garage door and get the most out of your new paint.
1. Prep The Surrounding Area
Whether you're removing flaky and chipped paint or you're just cleaning up the old garage door, it's important to prep the area and keep it clean during the painting project. Tape off all areas of the garage that will not be painted and cover any nearby landscaping with a good drop cloth or plastic. Cover the ground under the garage door with a cloth drop cloth or plastic to ensure paint and other undesirable materials don't come loose and end up sticking to your driveway.
2. Cleaning and Sanding
Before you do any paintwork, it's important to clean the garage door thoroughly. A good quality natural degreasing agent or other natural painting prep cleaner is important to use before painting. This will allow the new paint to adhere better to the older surface. After the door is clean, allow it to dry and sand the surface slightly using light grit sandpaper. Remove any loose pieces of paint, but don't worry about sanding away the excess paint. You only need to scratch the surface of the old paint to allow the new paint to adhere correctly.
3. Priming and Painting
Before you buy garage door paint, you'll need to know what type of paint already exists on the door (water-based or oil) the door material type (wood, steel, or vinyl/plastic). This will enable you to determine what type of paint you'll need for the door. Use an oil-based primer and paint for those doors already painted with oil-based paint, otherwise an acrylic primer and latex/acrylic paint will work just fine. Vinyl and other plastic should only be painted with approved paint that will adhere properly to vinyl or other plastics. Always be sure to paint at least three coats minimum, with at least four hours between coats for the perfect paint finish.
4. Additional Tips and Tricks
Spraying the paint in place is the preferable option, but if you're unable to do that, rolling the paint in place with a small light nap roller works just as well. Avoid using a bristled paintbrush for the majority of the work as this will often leave undesirable lines and pull marks from the brush.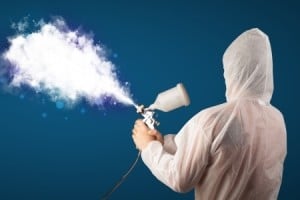 Spray Painting is the Best Painting Option for Garage Doors
You'll also want to make sure that when you paint the garage door, it's out of direct sunlight while it's being painted. The additional heat from direct sunlight can cause the paint to prematurely dry during painting, creating serious problems in the final coat of paint.
→

Lead Paint Warning!
If your garage was built prior to 1978 you may encounter lead-based paint. Should you decide to paint your old door, it is very important to determine if lead paint is present BEFORE you start sanding and scraping. Special care must be taken to avoid lead paint contamination. Lead paint dust and paint chips can cause severe problems, especially in younger children.
So following the above advice will give you a great head start in maintaining your garage door.
→ Suggested Article: Annual Preventive Maintenance for Your Garage Door ←