Light Communication System




Loading Dock Safety Equipment
At Overhead Door Co. of Central Jersey, we offer safety equipment for your loading dock. The McGuire Dock Alert Light Communication System is an easy-to-use, reliable, and cost-effective lighting system that reduces the risk of accidents at the loading dock by establishing clear communication between the truck driver and the dock personnel.
Light Communication System | McGuire's Dock Alert
The Dock Alert by McGuire uses flashing red and green lights inside and outside the building to inform both the truck driver, the forklift operator, and any other dock personnel of the status of the loading or unloading operation.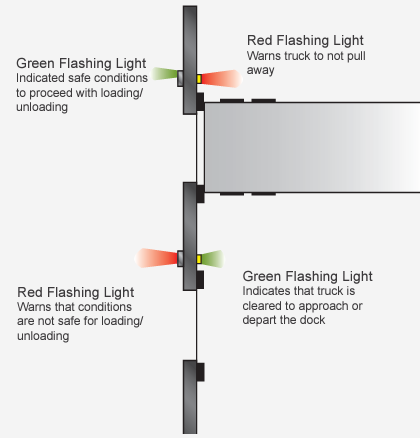 McGuire's Dock Alert can be manual or automatic. The Dock Alert can be integrated into a single control enclosure with your hydraulic or air-operated leveler and optional interconnections can assure a proper sequence of operation enhancing safety and efficiency at the loading dock.


DOCK ALERT LIGHT COMMUNICATION SYSTEM INCLUDES:




Control Panel


✓ Light Communication System control panel for automatic lights - manual light control panel.
Exterior Lights for Loading Docks


✓ Standard and LED lights are available.

Caution Signs for Loading Docks


✓ A set of standard and mirrored image caution signs to notify the truck driver.
We work with the best manufacturers in our country. Don't see what you're looking for? Contact us. Our experts will be able to provide all the information that you need.