Loading Dock Bumpers




Loading Dock Equipment
In Overhead Door Company of Central Jersey, we offer molded, laminated, and steel face loading dock bumpers. Dock Bumpers help protect the indoor and outdoor walls of any facility by absorbing up to 80%-90% of the impact backing trucks colliding with the loading docks, forklifts, and any other material handling vehicles. Loading dock bumpers eliminate costly repairs from severe shock to loading docks.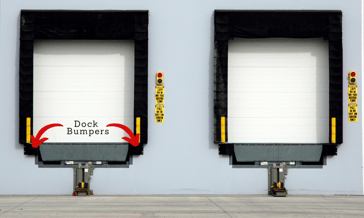 Edge of Dock Leveler with Rubber Dock Bumpers





Types of Dock Bumpers:







Molded Rubber Dock Bumpers

✓ Rubber dock bumpers are a great option for light-duty applications.
✓ Maintenance-free. These will not warp, rust or harden.
✓ These offer vehicle impact protection for loading docks, as well as indoor wall protection from potential damage caused by forklifts or any other material handling vehicles.

* Select from a range of heights to suit your specific loading dock needs.
→ Learn more about Dock Levelers, Pit Levelers, or Edge of Dock Levelers ←
→ Suggested Article: What Are The Main Benefits of Installing a Dock Bumper? ←
Steel Face Dock Bumpers

✓ Steel face dock bumpers are ideal for heavy-duty applications.
✓ Ideal for docks with air ride trailers or high capacity forklifts
✓ Eliminates wear from up and down friction movement of trailers loading and unloading.
✓ Can be used in any material handling system area where heavy-duty protection is needed.
* Custom dock bumper sizes are available upon request.
→ Suggested Page: Light Communication Systems for Your Loading Dock ←
Contact us to get detailed information about the dock bumpers that we have at our part's counter.
Click here to request information about dock levelers, dock leveler repairs, or dock shelters/seals repairs.
Overhead Door Company of Central Jersey sells, installs, repairs, and services loading dock equipment, dock doors, and commercial doors. We've been serving Central Jersey area since 1972. Click here to read our online reviews.