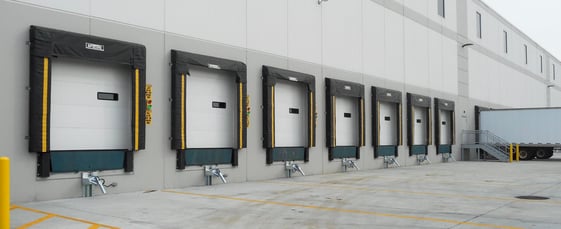 Sealing Systems: Dock Seals and Dock Shelters
Each little gap you see around a parked trailer at the loading dock is costing you money.
Those gaps allow the heating and air conditioning to escape, as well as unwanted elements like dust, wind, rain, bugs, and rodents into your facility. A sealing system (dock seals or dock shelters) solves these issues by filling the space between a parked trailer and the building.
Among the benefits of using sealing systems, we can find:
✓ Energy savings: This system is so smart that can control the building's interior temperature, so the cost of energy is reduced, therefore, in time it pays for itself.

✓ Safety and productivity: Minimum risk of falling in the loading areas. It provides a good correlation between the worker's productivity and the workplace.

✓ Freight protection: Forget about changes in weather and it reduces the entry of small insects as well.

✓ Security: Prevents robbery of merchandise as unauthorized entry is not permitted.

✓ Storage: It keeps the dust, bugs, and rodents outside your premises protecting your products and helping you with any future inspections that you may have.
---



Types of Sealing Systems: Dock Seals & Dock Shelters
→ Dock Seals - The seals are made of foam and covered with fabric. They are mounted to the wall around the loading dock door sealing the back of the truck.

→ Dock Shelters (Truck Shelters) - Truck shelters have a flexible frame equipped with curtains. The frame is also installed on the wall of the building. The curtains extend and seal against the wall and the rear of the truck.
Both shelters and seals are made with a very resistant fabric (industrial fabric) on their sealing surfaces due to the trailer movement during loading and unloading.

It is important to know the wall construction, as this will determine the most suitable type of sealing system for your premises. Dock shelters are most suitable mainly where walls have not been designed to handle the high compression forces of traditional seals.
---



Choosing The Best Criteria for Sealing Systems
It must be a priority to choose the correct sealing system for your premises, otherwise, it could result in damage to the product or less productivity. It is important to take the following criteria when choosing a sealing system:
1. Grade of Approach
You need to take into consideration the grade of the approach (it might be level, declined, or inclined). When necessary, seals can be tapered to ensure parallel compression along the entire face of the side pads, allowing it to create an effective seal.

2. Overhead Door Dimensions
The size of the door opening determines the best sealing system.
3. Dock Bumper Projection
This is the distance between the wall and the front face of the dock bumper. It is important to keep in mind that on declined driveways the loading dock bumper must project far enough to prevent trucks from impacting the upper wall as this could damage the structure of the building).
4. Dock Height
The dock height is the distance between the top of the dock floor and the grade.

5. Mounting Surface
As mentioned before, the wall construction will determine the most suitable type of sealing system for your premises. Dock shelters are to be considered the best to handle high compression forces.


---

Dock Seals
Compression foam dock seals are foam pads that the trailer compresses into when it backs in and comes to rest against the dock bumpers, forming a seal around three sides of the trailer.
→ Dock seals are more effective at sealing than dock shelters.


Dock seals have the following limitations:
- If the door is wider than 9ft, it can not be used.
- It can accommodate a limited number of trucks.
- With rear-loading platforms, it will not work as well.
- It will have limited access to the interior of the truck.
Head pads exist in various sizes. If the doorway is tall, you may want to consider a fixed head curtain instead of head pads and a more spacious range of trailer heights. There will be an air gap around the hinge area of the truck.


---
Dock Shelters (Truck Shelters)
If you want a full entrance to the interior of the truck, a dock shelter is a right solution, just keep in mind that, most likely, there will be a gap around the hing area. Dock shelters allow for full, unobstructed access to loads on the trailer for maximum loading and unloading efficiency.

Dock shelters fit in almost any door, you will find them more frequently on doors between 9 ft wide x 9 ft high and 12 fit wide x 12 ft high.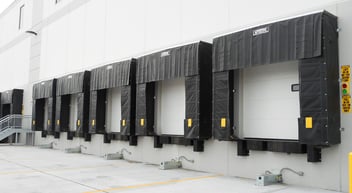 Use truck shelters when:
✓ When you have loading doors wider than 9 ft or higher than 10 ft.
✓ When the truck has extended tailgates
✓ Trucks with rear platforms
✓ When you want to have full access to the truck's interior
---



Comparison: Dock Shelters vs Dock Seals
| | | |
| --- | --- | --- |
| | Dock Shelters | Dock Seals |
| Pice | Generally more expensive than dock seals. Price is based on the level of sealing effectiveness and durability. | Generally lower priced than dock shelters, although top dock seal models can be more pricey than low-end shelters. |
| Sealing Effectiveness | Depends on the model. Some provide excellent sealing effectiveness, on par with the best compression dock seals. Others leave significant gaps. Types of trailers being served can also affect sealing effectiveness so selecting the right model is key. | Generally very good to excellent, depending on whether the top is sealed with a head curtain or head pad, and whether or not the seal has added sealing features. |
| Versatility | Able to fit larger dock door openings and service a wide variety of trailer heights and styles. Less subject to damage over time. | Good for applications where dock openings are relatively small, the variety of trailer sizes being serviced is limited, and/or space between door openings is tight. |
| Head Curtain | Higher-end models use weight and gravity to keep in contact with the roof of the trailer and automatically position on the trailer top. | Manual adjustment required |
| Durability | Less subject to damage from daily wear and tear | Prone to wear and tear, but these can be reduced by adding features like replaceable reinforcement boots and friction-resistant fabric |
* Chart provided by
Rite-Hite
At Overhead Door Co. of Central Jersey, our technicians will supply everything you need at the best price. We work with the best manufacturers in the country and offer cost-effective maintenance plans, repairs, and installation for loading dock seals, dock shelters, commercial and industrial overhead doors, and other loading dock equipment.
If you'd like to get additional information about our dock seals, dock shelters, or any other loading dock equipment, please contact us. It will be a pleasure to assist you.