At Overhead Door Co. of Central Jersey, we often see loading docks that lack some of today's most effective safety systems. One of the more common systems is a light communication system also known as a traffic control light system for loading docks.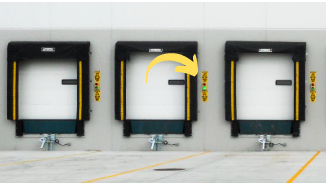 Dock Alert Communication Systems
A dock alert light system is an easy to use, dependable, and cost effective lighting system. The purpose is to provide a clear line of communication between truck drivers and dock personnel thus reducing the risk of accidents at the loading dock. With the use of flashing red and green lights both inside and outside the building both the truck driver and forklift operator are informed of the status of the loading or unloading operation.
Such a system can be purchased utilizing either manual or automatic activation. Additionally, the system can be integrated into a single control enclosure with your hydraulic or air operated leveler and optional interconnections can assure proper sequence of operation enhancing safety and efficiency at the loading dock.

Dock Alert Communication System
When coupled with well-trained loading dock personnel, a vehicle restraint system, and signage, the use of a dock traffic control light system can help to transform your loading dock area from hazardous to a safe and orderly work area.
To learn more about overhead door and loading dock safety contact Overhead Door Co. of Central Jersey. We have been serving the Central Jersey market area since 1972 and our product specialists are always ready to assist with your access needs. From dock doors and loading dock equipment to high speed, fire rated, and other specialty doors and door automation systems, Overhead Door Co. of Central Jersey is your one stop source. We can be reached at 908-722-5785. You can also find us on the web at www.OverheadDoorCo.com, or visit us in Branchburg at the intersection of Route South and River Road.