Overhead Door Co. of Central Jersey has been providing quality overhead and rolling door service, fire door service and loading dock equipment service in the Central New Jersey market since 1972. We understand how a door failure or dock failure can impede your business. Just like having a flat tire, there is never a 'good time' for your door or dock equipment to fail.
If you do experience a failure, we are ready to help! Our dedicated service team can assess the problem and in many cases have your door or dock operational within a few short hours. From a rolling door that is stuck due to bent slats or broken end locks or a damaged guide assembly, to a sectional door that has been hit and come off the track, to an opener system that has failed, our team is trained to quickly and effectively address the problem. In many cases we can make a complete and effective repair during the first visit. Other times, we can make a temporary repair while parts are sourced to make the final repair.
Some of the most common repair requirements include replacing broken springs and other counterbalance assembly components such as lift cables, cable drums, and counterbalance shaft and bearings. Springs are matched to a specific door weight and track condition. This creates a problem in that it is nearly impossible to have this part immediately available. Our service team has devised a system of temporary repair that works for the majority of broken springs. This allows us to get your door operational during the time period it takes to obtain the correct replacement, alleviating down time. If your door systems face high cycle usage and down time is a major problem, we like to suggest that we become proactive – working with you to get an appropriate number of replacement springs put into your stock prior to breakage. The advantage here is that we can dispatch a team on rapid response and the part will be readily available on your site. This gets your equipment back on line with minimal disruption and reduces cost by removing the need for a return trip.
For rolling doors, we can most often return these products to operational status on a temporary basis while parts are sourced. There have been many manufacturers over the years, resulting is some very specific slat profiles. We can source virtually any available profile as we have developed relationships with these suppliers over our many years in business.
Opener system failure can also occur. Our ability to service these systems is determined by the age and manufacturer of your system. Whenever possible and practical, we will repair these units and have many common parts in stock. When it is not practical or possible, we provide quick turnaround service for replacement. In most cases we can have a new system installed within three business days. Of course, we can assist with all accessories and safety systems as well.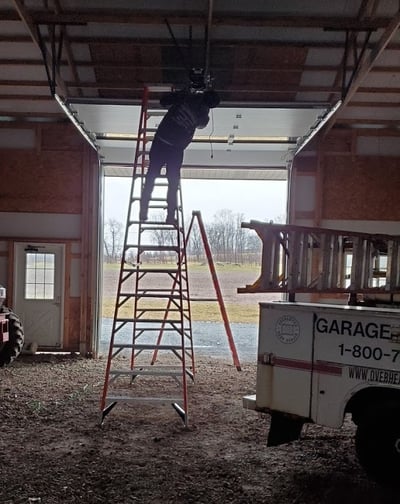 Loading dock levelers can also malfunction or get damaged. Broken welds, stuck lip assemblies, bad hold down devices, spring tension adjustment, and hydraulic problems are some of the more common things we see. Our teams are prepared to assist with all of these issues and more.
Overhead Door Co. of Central Jersey – your single source for service on sectional, rolling, sliding and fire doors as well as loading dock equipment and door automation systems. Of course, if your need is for replacement equipment or equipment for a new project, our project management and installation team can assist with that. Proudly serving the Central Jersey market for over 47 years, we are ready to help you. We are located on Route 202 South at River Road in Branchburg, NJ. Contact us at 908-722-5785, or visit us on the web at www.OverheadDoorCo.com.