You have begun to look for overhead garage doors for your commercial project. More than likely you have quickly found a lot of nomenclature you are not familiar with. Track terminology is one area where we receive many questions at Overhead Door Co. of Central Jersey. Standard lift, high lift, lift clearance, low headroom, full vertical, follow roofline, reverse angle, bracket mounted, and so on. What do all these things mean? It is very important to understand these different types of track as you design your project. This will allow you to select the most appropriate hardware system for your application. Here's a quick look at some of the most common terms.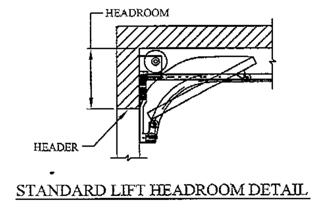 Standard lift – this type of track is for use where the door height is relatively close to the ceiling of the building. This track uses a vertical track mounted against the wall and a horizontal track that is attached to the ceiling structure. When the door is open, it will be laying mostly flat beneath the ceiling.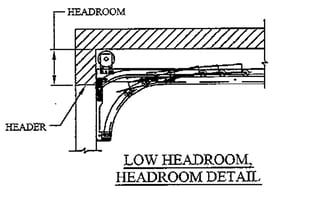 Low headroom – this type of track is for use where the door height does not allow enough room between the top of the door and the ceiling for normal operation. This track uses a second horizontal portion of track. The upper section of the door rides in this additional horizontal track using a special flat corner bracket allowing the door to operate in significantly less headroom than normal. There can be drawbacks to this specialized hardware, so be careful to consider required door height during your design process. In all cases it is more desirable to use standard lift track over low headroom track.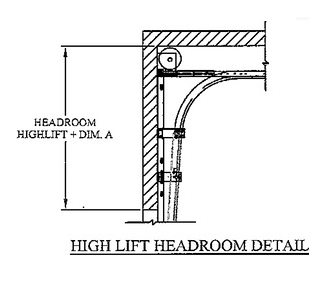 High lift or lift clearance track – this track is used where the door height is significantly lower than the ceiling height, for example a door height of eight feet with a ceiling height of twelve feet. The vertical, or wall mounted section of track is extended to allow the door to travel vertically until closer to the ceiling, then curve back into the horizontal portion of the track. This prevents the door tracks from creating a lower obstruction in your building.
Follow roofline – as implied by the name, this track is designed so the door will follow the pitch of the roof. This pitched track can be used with standard or lift clearance track.
Full vertical – this track assembly is designed for areas where the ceiling is very high and the door can be stored vertically against the wall when in the full open position. Often used in warehouses, this track does not have any horizontal portion.
Angle, reverse angle, bracket mount – all refer to how the track will be mounted to your building. The type of mount is dependent upon the type of door jamb.
There are also different sizes of track, wind loaded track mounting, and many other options. As you can see, the number of choices can be overwhelming.
Overhead Door Co. of Central Jersey has product specialists ready to help you with the process of selecting the best track system and best door products for your project. We also offer a full line of automatic garage door opener products and a full line of loading dock equipment. We have been selling, installing and servicing overhead door and loading dock products in the Central Jersey area since 1972 – for over 47 years. We are conveniently located on Route 202 South at River Road in Branchburg, NJ. Call us today at 908-722-5785 or find us on the web at www.OverheadDoorCo.com.