Decisions, decisions! When you first address the decision to purchase garage doors, you face a universe of choices that can leave your head spinning. Fear not! Just take a deep breath and head for Overhead Door Company of Central Jersey's showroom. If you can't make it in, then take a look at the Overhead Door Online Design Center. This handy tool will help you design your garage door online by visualizing your choices each step along the way. You can customize your new garage door with the latest accessories, from gorgeous glass window designs to wrought-iron decorative hardware that adds a distinctive period look.
Learn How to Design Your Garage Door Online
Let's walk through an example of how you can use the Overhead Door Online Design Center to make sense of all your choices.


Step 1: Select a Garage Door Style
Browse the photo gallery to select among various styles.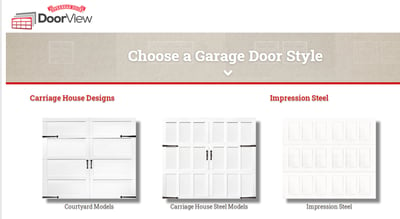 Step 2: Select or Edit Your Door Shape
You can next pick a door shape from one of the different Overhead Door collections. Consult the photos and the captions that describe the style and materials of each collection. You can select components and accessories that best match the architecture of your home.

Step 3:

Customize Your Garage Door with Accessories

Finish designing your ideal garage door by choosing:
- The Color for Your Garage Door: Some doors offer a standard set of colors, while others offer an extended palette plus the ability to apply custom colors. For wooden doors, you can also choose a stain or a simple clear finish. Example:
- A Garage Door Trim: These are decorative boards that act as a frame that enhances the look of your door and increases your home's crub appeal.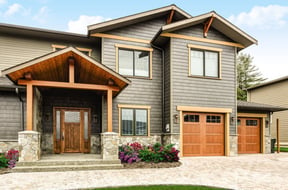 Impression Collection® 983 - Fiberglass Garage Doors
- Window & Glass: If you want to get some natural light in your garage, placing a window is the way to do it. Learn about the designs available and the glass type available for your garage door (clear, obscured, satin, etc.).

- Decorative Hardware:
There are styles of decorative hardware to fit almost any garage door and home style. You can select decorative hinges and handles in traditional or modern styles and in several finishes. Pick a style that complements your home's look. Examples below:
| | | |
| --- | --- | --- |
| | | |
Step 4: Pick Your Garage Door Opener
If you haven't yet picked out a garage door opener, the DesignCenter will show you a list of models that work well with your chosen door model. For the ultimate in power, fast operation and dependability, check out the Odyssey 1000. You'll find a reliable Overhead Door opener appropriate to any budget or space requirements.

And there you have it! You've picked out your door's accessories in the comfort of your own home. If you're the type of person who prefers to look at and touch real samples, please stop by and take a look at some of the options available that are on display in our showroom. Shopping in a showroom can be a lot of fun and might spur new design ideas. All Overhead Door accessories are made of top-quality materials and components, so you can shop with confidence.