✓ Inside Opening
The rough opening is essentially the size of the finished garage door. Take the measurements of both the width and the height of the inside of the opening. For instance, if your rough opening is 16 feet wide and 7 feet high, then your best bet for a garage door is a 16x7 door. But what happens when the opening is a little smaller or larger than a conventional-sized door? That's where a good garage door installer comes in handy. They have the ability to determine what door will work best for each opening simply because they have the experience of knowing exactly how much extra "cheating room" they have when it comes to odd openings.
✓ Left and Right Clearance
Take a measurement from the sides of the rough opening to the side of the garage wall (or nearest obstruction) on both the left and right sides of the rough opening. Typically, anything less than 4" is going to be tough to work with. A professional garage door company will insist on double-checking your door measurements before he orders any materials just to be sure they can install the garage door you want. If you have decided to make this a DIY project, be sure to double and triple-check your measurements as most doors cannot be returned.
✓ Headroom
This critical measurement consists of the space from the top of the garage door header to the ceiling or ceiling joists. Torsion spring style doors generally require at least 13" of space while some extension spring doors can work with 11" more or less of space above the header. Add an additional three inches of space for an electric door opener. Even more space is required for many styles of doors. Carriage House-style doors generally require additional room. Always be sure to verify this measurement with your garage door installer before purchasing any garage doors or equipment.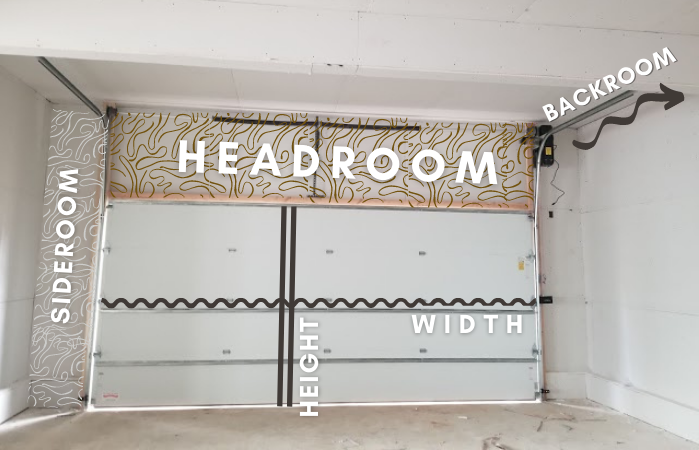 ✓ Backroom
The backroom space is the measurement that extends from the front of the garage (the rough opening wall) to the back of the garage ceiling. This space holds the entire door when it's opened as well as some of the hardware and electric operator. The additional backroom is often required for the door height extension so this measurement will be longer than the actual height of the rough door opening.
✓ Considerations
When you're measuring your door, keep in mind that these measurements are going to be used to help you to define which style of door is best for you while you're out and about shopping for models. These measurements should always be double-checked by a garage door professional before any materials are purchased or installed. Because there are so many different styles of doors with varying sizes and requirements, it's always best to let a professional garage door installer help you find a door that's right for your rough door opening. Still, it's convenient to be able to get a rough idea, even before a professional is called in.
If you need a new garage door, visit our showroom. One of our experts will be more than happy to help you choose the best door for your home. We've been serving customers in the Central Jersey area for over 45 years.
Call: 908-722-5785 or email resi@overheaddoorco.com