Installing a garage door screen is a great way to enhance the usage of your garage and can be accomplished in many different ways. Some garage screens are fixed in place with high-grade aluminum frames on sliding tracks while other screens for a garage are simple in design and hang from garage door opening using Velcro or hooks. Each garage screen has its advantages and disadvantages but one thing is certain—installing a garage door screen yourself is a difficult job, to say the least.
While hiring a reliable garage door installer or screen enclosure company to install a garage door screen is in your best interests, having it installed professionally doesn't mean it's out of reach for the homeowner on a budget. There are many garage screen styles that are designed to suit a wide variety of budgets, styles, and tastes. In fact, a garage door screen can make for a great investment and you'll increase the living square footage of your house.
Jim Norman of Overhead Door Company of Central Jersey says:
"Garage screens can be installed in a wide variety of ways with a number of price points and that's why so many people love them. They are particularly popular with shore and vacation homeowners who are looking to get a little extra space for outdoor activities without having to spend a fortune on a screened enclosure."
Garage screen enclosures can be installed as a fixed panel so that the garage is screen-enclosed but access with a vehicle is limited. Typically these installations can be removed for access to the garage with a vehicle, but not without a bit of struggle and hard work. These types of garage door screens are some of the most affordable, but if you're looking for constant access with your vehicle, you're better off with a retractable garage door screen.
Retractable garage screens are built on an aluminum track and slide side to side for access with a single-vehicle. The screen enclosure is built on the exterior of the garage door so that the door can be opened and closed without having to move the screen each time. A heavy-duty metal track impervious to vehicle tires allows the screen doors to slide in place with ease. Upgrades like an electric opener make these garage door screens some of the easiest to use and the most expensive.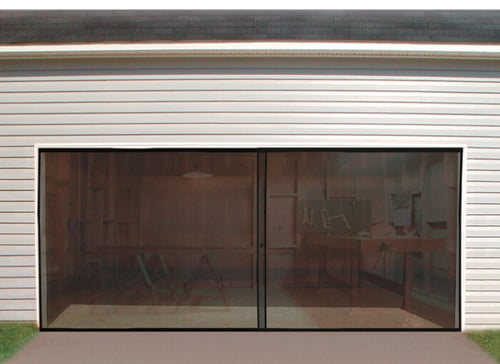 Garage Door Screen
No matter what type of garage screen you decide to install, it's not just about access to the garage—it's also about the types of screen you can install in the opening. From a basic mesh that allows more airflow, to pet screens that are resistant to dog and cat scratches, choosing a screen can be the toughest choice of all to make.
Some homeowners choose to install two or more types of screen on their garage screen enclosure to optimize the benefits. With a privacy screen on top and a light mesh for airflow in the bottom, many homeowners get the best of both worlds with their garage screen doors.
→ Suggested Read: Preventive Maintenance for Garage Doors ←
→ Visit our Garage Door Catalog ←