You have selected the perfect carriage house door for your garage. You have selected the perfect siding choice for your garage. The perfect roofing has been installed. The perfect color has been chosen for the doors. But you still need something to make the doors 'pop'. We can help!
Select decorative hardware to compliment your light fixtures, pass door hardware and any other architectural features on the garage. You can choose from many designs, colors, textures and finishes. You can add the old world charm associated with iron hardware and change the look of the garage doors from "blah to ahhhhhhh". Perhaps your project would look great with clavos. Maybe a set of speak easy grilles would look nice on the windows. Or use a combination of hinges, handles, clavos and grilles.
Hinges


Decorative Hardware for Garage Doors: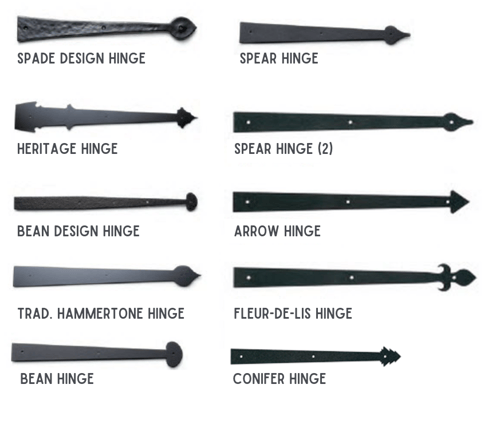 Clavos, Handles, and Knockers


Decorative Hardware for Garage Doors: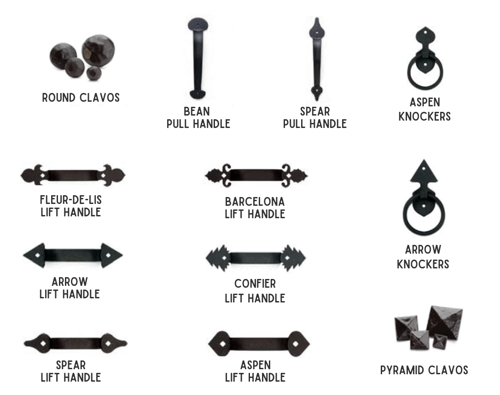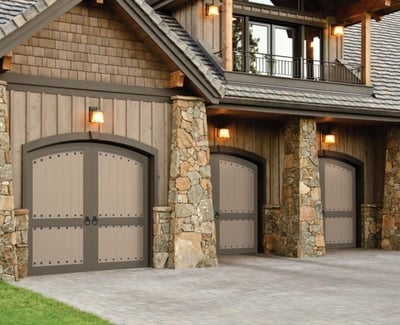 Garage Doors with Decorative Hardware: Clavos, and Handles
Should the color be black, bronze, copper or nickel? Should the design be spear, spade, bean or fleur-de-lis? Should the material be iron or cast aluminum? There are many products to choose from. Pay special attention to the selection of your decorative hardware. As mentioned earlier it is important to be sure the hardware choice complements not only the garage door but the rest of your project. For example, the finish on the hardware might want to tie nicely with the lighting fixtures you may have selected.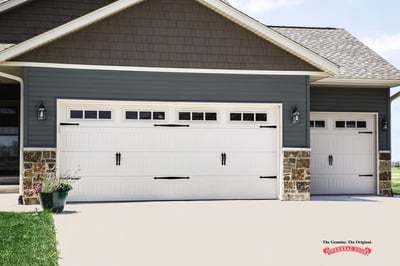 Traditional Style Garage Door with Decorative Hardware
Often times customers visit our showroom to select custom carriage house doors along with an appropriate opener system, but do not realize they can complete the package with decorative hardware right in our showroom. Overhead Door Co. of Central Jersey has teamed with several sources for distinctive decorative hardware options. This makes the selection process for your garage doors, opener systems and decorative hardware a one stop event. This can be important as we can provide coaching on which size and style will best fit the door product you have selected. Not all hinges and handles will fit all door selections.



Garage Doors with Decorative Hardware: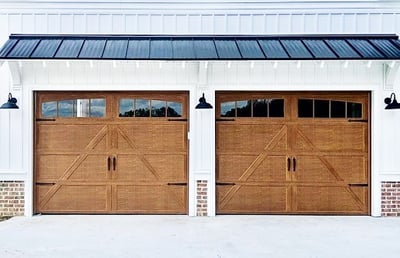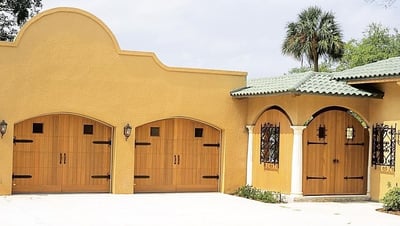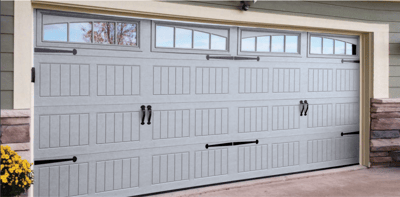 Bean, spear and spade ends are most typically associated with a colonial or early American style. Fleur De Lis, lion's head, ring pulls and clavos are more often thought of as adding an old world look. No matter the style you can be sure adding decorative hardware will enhance the appearance of your garage.
So, when you are selecting custom carriage house style doors be sure to select an appropriate decorative hardware option to complete the look.
The garage door professionals at Overhead Door Co. of Central Jersey can assist with any questions you might have. They are easily reached at 908-722-5785, you can stop in at 952 Route 202 South in Branchburg, or you can email us at sales@overheaddoorco.com