Overhead Door Co. of Central Jersey offers a full selection of industrial overhead doors (roll-up doors) to satisfy all the important requirements of industrial applications. Several major factors must be considered when choosing an industrial overhead door. These include:
Functionality

Size

Design

Operation

Environmental

Safety/Security

Quality/Value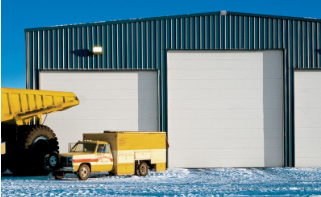 High-Performance Roll Up Door, Thermacore Insulated Door, Model 559

---
1. Functionality:
1.1 Size
The first criteria of an industrial application are the size and design of the overhead doors. For new sites, the architect will set the specifics and either ask for custom-made doors or will pick a readily available one that can be sized properly. Existing applications may need to replace an old or damaged door or may need a new type of door to satisfy a repurposed application. Doors can be made in many sizes. Sectional doors available in heights and widths that depend on section size, whereas rolling doors are more amenable to non-standard sizes. There are practical limits on the weight of overhead doors such that an architect will specify multiple units to fill large spaces. Doors that are over 40 feet wide are available, but after that, doors may become too heavy, slow, and unwieldy for many applications.
1.2 Design
Door aesthetics may be very important in applications for showcase and commercial applications, but most industrial roll-up doors are not seen by the general public. Still, architects will want good-looking doors that complement the surrounding facility and that have the desired light infiltration characteristics. In some cases, the application will require maximum visibility and call for clear-panel doors made of tempered glass, Lexan, or other transparent material. Other locations may want complete privacy/security and use doors with no lights at all. Door color may be a consideration, but fancy hardware is usually not used in industrial settings. However, if an industrial setting has a public function, such as a winery with a public tasting room, fancier doors may be used in the areas visible to the public.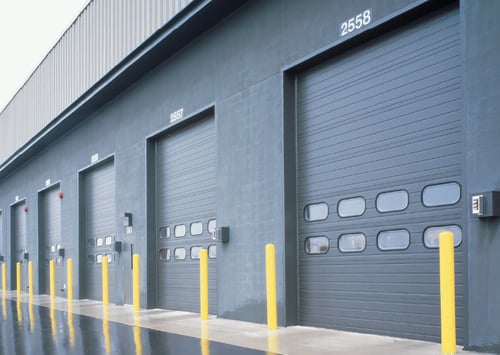 1.3 Operation
Many industrial overhead doors see a little action. They are opened in the morning, stay open all day, and then closed in the evening. In facilities that run 24-hours a day, these doors may seldom be closed. Secondary doors may be used infrequently and remain closed most of the time. In these situations, standard-cycle springs will suffice, and the door may be operated by chain hoist or manual lift. At the other extreme are doors that are constantly being opened and shut due to environmental or security concerns. These doors will require a high-cycle design and motorized openers. They also may need to open and close rapidly. The facility may have a central control unit at which all doors can be operated, or each door or grouping of doors may have separate controls. High usage industrial doors may require heavy gauge metal construction and premium moving parts that can withstand the constant operation.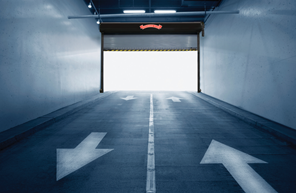 1.4 Environmental
Many industrial applications face serious environmental challenges and require doors with special characteristics:
- Climate Control: Applications involving refrigeration require heavily insulated roll-up doors, as do sites in which the external prevailing temperatures differ substantially from the internal ones. The Overhead Door Model 850 uses advanced Thermacore technology to provide an R-value of 26, perfect for food and beverage storage facilities, agricultural buildings, pharmaceutical plants, and other heavy-duty applications. These doors are heavily insulated.
- Weather and Wind: In many situations, applications may call for high wind pressure doors and/or doors that are tightly sealed against water and air infiltration. These types of doors require flexible weather seals and thermal breaks to support superior performance.
- Sound Attenuation: Doors may require heavy insulation to attenuate sounds entering or leaving the application, especially in mixed-use developments.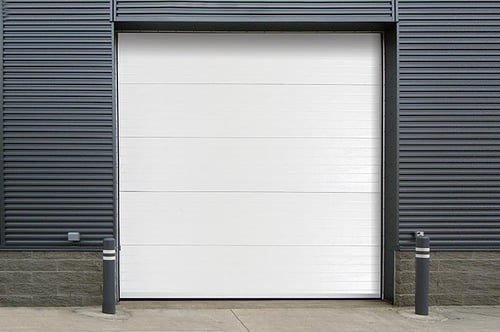 Sectional Steel Doors
2. Safety and Security
Most industrial applications strive for zero tolerance of unsafe conditions. Furthermore, the physical security of work locations is a foundational axiom. To reach these goals, companies must plan for safety and security in a coherent, step-by-step process. Here are some of the important factors to be considered:
In this context, security means that:
- The overhead doors can only be operated by authorized personnel. The best way to achieve this in an industrial setting is to have a central control unit operated by trained and authorized employees. A secured communications network including video monitoring is required so that door operation can be observed and controlled. In a high-security application, a secure storage facility for sensitive information or a manufacturing facility that uses precious metals or certain hazardous chemicals in their processes, great care must be taken to control vehicle entry and exit through a high-security protocol that requires positive identification and verification of all requests to open doors. The doors and surrounding areas must be well lit and equipped with overlapping video cameras. If appropriate, motion detectors should trigger floodlights and/or alarms.
- An automated record of all door movements should be maintained.
- If necessary, all doors should be able to be locked down from a central security control.
- If the doors are locally controllable with remote controls, the units should be equipped with rolling code technology to prevent code stealing. This means a new code is used each time the remote is operated. In high-security situations, access to remote openers must be tightly controlled.
- Doors can be outfitted with integrated deadbolt systems and provisions for padlocks.
- All power-operated doors should be equipped with safety equipment, including electric eyes, pressure sensors, and emergency-release mechanisms.

- Door safety should be tested monthly to ensure closing doors automatically reverse when they hit obstacles.
- Doors must be regularly maintained and kept in good repair by trained personnel.


3. Quality/Value
Overhead Door Co. of Central Jersey offers commercial and industrial roll up doors to the highest standards of quality and value. In the greater scheme of things, trying to save money by using inferior doors is a big mistake. Not only will the door have a compromised lifetime, but it will also require more maintenance and repairs to keep it working. Industrial doors should incorporate springs and other parts that exceed the cycle requirements of the application.
Care should also be taken to ensure the door provides the required thermal and sound attenuation characteristics. High-quality doors have integrated insulation and high R-values. Industrial applications may also need overhead doors with the ability to withstand high wind loads and weather infiltration. Quality doors have special construction details to break the thermal flow and seal against water and wind.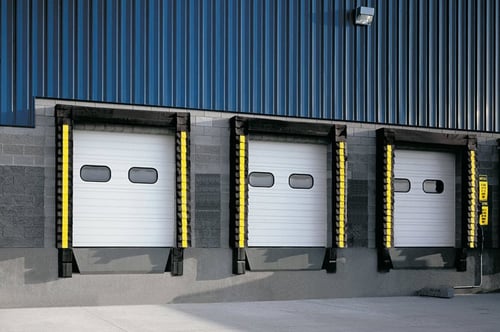 Heavy gauge steel and aluminum are the perfect material for industrial roll up doors that are going to see a lot of stress and strain. This material holds up for a long time and can accept a paint finish or powder coating. Wood, although beautiful, is seldom used in industrial settings except for facilities, such as a brewery, that have a public component. Contact your local Overhead Door supplier when designing or renovating an industrial facility -- there is a wide variety of choices and provides the opportunity for many custom solutions.
Looking for a new industrial overhead door? Contact our experts. It will be a pleasure to assist you.