Garage doors can be one of the most vulnerable points of your home to would-be burglars and thieves. Even if a neighbor passes by while a thief is breaking in, an open garage door with a work truck parked in front does not appear to be suspicious. That's why today's garage door openers, with rolling code technology, are much more secure than their fixed code predecessors. Using rolling code technology eliminates the possibility of a thief using a code scanner to snatch your code.
In the modern era, most garage door break-ins occur when a thief has the chance to steal the garage door remote from your car. It's just a matter of tracing your license plate or VIN number back to your address. That's why you should never leave your garage door opener in plain sight. Always lock your car door to prevent car and home burglaries.
As Jim Norman of Overhead Door Company of Central Jersey puts it "Garage door security ranges from the simple—don't leave your remote control visible in your car—to more detailed security measures like putting a one-way film on the glass of your garage door. There's always room for security in any garage door installation."
→ Suggested Read: Control and Monitor Your Garage Door Opener from Anywhere ←
---
Garage Door Security Tips:
Use the following 8 safety measures and keep you, your family and your home safe.
1. Keychain Opener: By using a smaller keychain garage door opener versus the larger bulky car model, you can easily take your garage door key with you so you don't have to worry about someone stealing it. It's a lot harder to steal from your pocket than it is from your parked car—even if it is locked.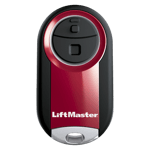 2. Deadbolt Your Garage/Home Door: Keep your home secure even if thieves do break into the garage by installing a deadbolt lock on the door between your garage and your home. This way, you and your belongings will be safely locked away in your home. Solid Side Entry: Be sure your exterior garage access door has a deadbolt installed as well. If your side door isn't as strong as your front door, then your garage door isn't safe from being kicked in. You may want to consider installing a kick stop device or a newer door to prevent easy access into your garage.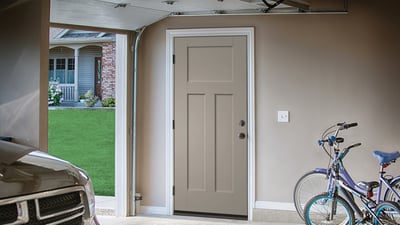 3. Install a Garage Door Opener with Camera: You can now install a garage door opener that you can control and monitor from anywhere by using your mobile phone or your tablet. Contact us to get an instant quote.
4. One-Way Film: By frosting or darkening your garage window panels, you prevent thieves from seeing into the garage and checking for valuable tools and cars and whether you're home.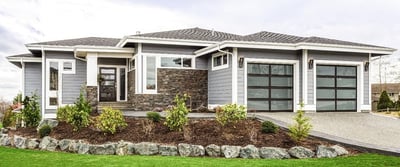 5. Lock the Garage Door While Vacationing: Most garage doors have a sliding lock on the sides to hold the door in place. Even if it doesn't, a simple padlock or even a c-clamp on the track can ensure that your garage door can't be opened from the outside when you're away for extended periods of time. WARNING: If you lock your electrically operated door, be sure to unplug the operator, or use the 'Vacation Switch' (if your opener has one) to shut off the control circuit. Otherwise, you might forget when arriving home and try to operate your door from your car causing some very expensive damage to your door and/or door opener system.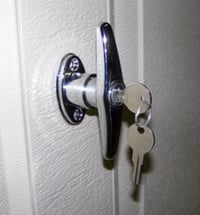 6. Close the Garage First: It can be really dark when you arrive late at night. You don't know who could be lurking just around the corner of your now open garage door. Be sure to close the garage door before you get out of your locked car. This way, if someone has entered the garage, you'll still be safely locked inside your vehicle.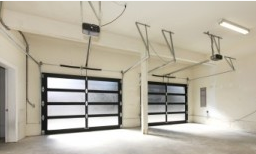 7. Good Maintenance: A well-oiled and greased garage door system is the only way to ensure that your garage door works to its fullest potential. Change the light bulbs and perform all maintenance tasks, per the manufacturer's specifications to keep your garage door secure for many years to come.
8. Social Media: Unless you live near Buffalo, NY, don't post those real-time images of your trip to Niagara Falls to Facebook, Instagram or other social media. Thieves can obtain this information and rob your house while you're away. Instead, post the information after you return and indicate that the photos were taken during your last vacation. This security measure applies regardless of whether or not you have a garage.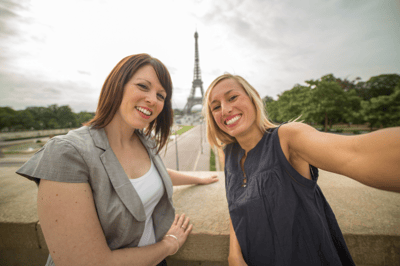 Don't Overshare in Social Media Unless You Have Private Settings
These few simple steps will lower the chances of unwanted visitors exploiting your garage as a point of entrance.